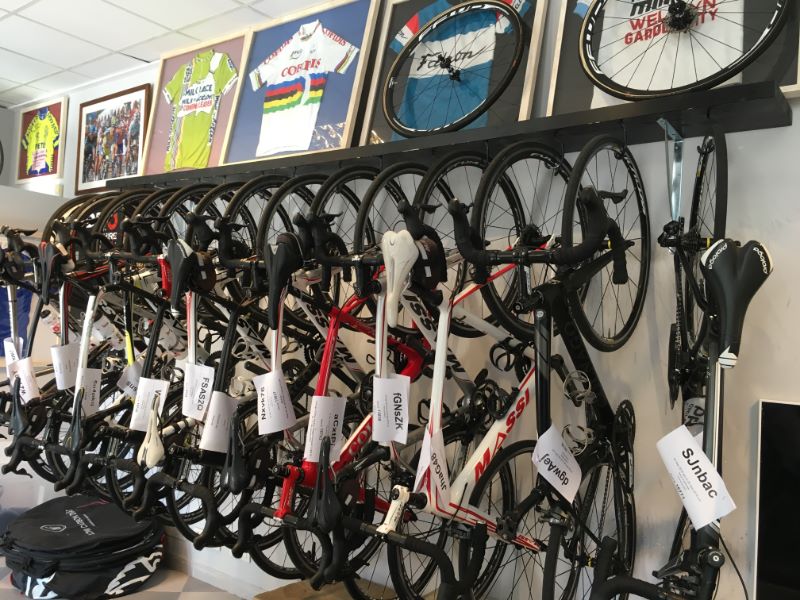 Bike rental or bringing your own bike to Mallorca?
If you do not want to bring your own bike to Mallorca, bikes can be rented locally in the resort. As bike rental is so popular, you must make it a priority to book your hire bike as soon as you can. If you leave it until nearer your holiday, then you will have a lot less choice or may not even be able to reserve a suitable bike! Bikes can be booked online in a few minutes.
The e-bikes are now so efficient, they are worth considering for mixed fitness groups or families. We are used to having riders on e-bikes out with us in a group. For mixed groups, they work best on the hillier terrain as the uphill is taken care of by the extra power and downhill, the extra weight allows them to descend easily. On the flat routes, they are great for a leisure type ride but not in a mixed group that goes above 26 kph average. Locally there are road, hybrid and mountain bike types to choose from.
Please note: Since 2020, bike rental costs cannot always be fully recovered with cancellations. Most of the time, you can easily have a deferred or change to the booking date of the rental but not a full cash refund. If we rent a bike on your behalf, we are also subject to these terms, so would have to pass the same back to you. Holiday travel insurance does cover you for these eventualities, so you can claim back any cancelled holidays and rentals via your insurance. Do read the small prints!
We don't normally arrange bike rentals as we prefer individuals to select what they want. There is a large choice here locally. If you would like us to arrange your bike rental through one of our preferred suppliers, then this can be done subject to an admin fee, otherwise please book your bike as soon as possible. Some months are very busy and bikes are reserved 1 year ahead, especially April, May and September. For some suppliers, we can obtain a discount from their advertised prices, so it may work out as a better deal for you. Where possible we try to arrange for your rental bike to be delivered or ready for you at the Hotel on arrival.
For more information on bike rentals, download or view our PDF on this topic. Rental Bike Sizes and Bookings
If you would like us to arrange your bike rental which will incur and admin charge, then fill out the form below. After we receive your submitted form, we will get back to you to confirm availability, options and prices.