Mallorca 312 Tour week. The following weekend was the Mallorca 312, so this week was about a balance of efforts but not to be too tired before the big day on Saturday. We started the week with an undulating route of heading along the coast to Arta, taking in the climb towards Betlem Church and then swung back towards Llorenc before a lunch stop in Petra. We returned the straight way back to keep the distance down. Day 2 was triggering the climbing muscles, so what better way than a day out to Sa Calobra with lunch in Caimari on the way back. We can't have been trying hard enough today as there was so much banter and laughter all day! Stevie kept telling us that he had amazing legs, they felt so good, so he kept bursting away off the front to demonstrate this to us. I wonder if we will all be laughing on Saturday during the 312 event? Day 3 was easing down on the efforts and durations, so a great undulating route with 2 coffee stops, Sencelles and Sineu. Needless to say, we enjoyed many cakes and drinks that day, under the pretence of carb loading for Saturday… Not sure if the flying laps on the Sineu outdoor velodrome should be mentioned but it was lots of fun and thats what our Tours are about, it's a holiday as well as cycling! Day 4 was another easy day with just the odd slopes rather than hills, so a trip to Selva was in order and it was a great place to meet up with the less serious cycling partners who I think had a hillier route than we did! Day 5 was our scheduled rest day and coincided perfectly with a few rain showers. Day 6 was just about keeping the legs spinning, so a short ride to Son Serra for the beach view while indulging in the cakes and drinks.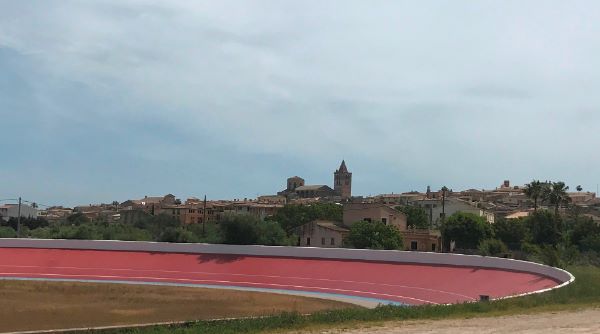 Day 7 was the Mallorca 312 event and we were competing in the 225 km route. This meant getting to Playa de Muro, the far side of Alcudia for a 6:45 assemble with a 7am start. Dark and cold at 5 deg C. 6,500 entrants and what an atmosphere! We had an amazing day! Cyclists everywhere you looked, all day long. Scenic views at every turn, climbing, descending, no traffic as the roads were closed. The list of reasons why this was a superb day could fill a page, it really was that good! Stats wise, it was just under 140 miles / 224 km, 11,140ft / 3,395m of climbing and took 8hrs 14 mins, so just under 17mph / 27kph. Garmin said it had a TSS=417.
Instead of more of my words about the day, here is an article sent in from Hugh Poulter, who was with Mallorca Cycling Tours for the week and also riding the event. Thanks Hugh!