The Tour Down Under Trip – January 2019
There are many options for the route to Adelaide, personally I took the Birmingham Airport to the Dubai Hub and then onwards to Adelaide with only a couple of hours wait for the connection in the Emirates Hub. On arriving in Adelaide, I was surprised how small the airport was but it was friendly enough and quite efficient at processing the queues through immigration control. A word of warning, ensure your shoes (boots) have clean soles and no mud on them otherwise you will be taken off to another queue for further checks. Next warning beware dodgy taxis from the airport, I was overcharged. For the return trip I used Uber and it was less than half the price!
For accommodation, there are many options, all a good standard and value for money. I Stayed in the Holiday Inn Express and it was quite well positioned, just 10-15 mins walk from the Victoria square Tour Village and Hilton Hotel where the riders (Teams) stay. Breakfast was from 6:30 or 7 on weekends, which wasn't quite early enough as the group rides tended to be 6am. It's just off Hindley street which is the central party road for the City. Aside from that it was a good standard, had quite a few other bike riders staying there and they were mostly annual returners for the TDU and liked the hotel.
What was the plan?
Having spent hours studying the race routes, the previous years routes and the popular segments, the plan was to ride as many of them as possible, risk asses them for future guided group rides but also have lots of fun in the process! I had local contacts who had been taking groups around for a number of years and they were going to show me the best ones.
Jan 12th. First ride, on my own, on the 12th, just straight out the city to Henley beach and unexpectedly met lots of cyclists. There are lots of cafes, and a good bike lane running up and down the coast at this point. Next I Pedalled North up to Port Adelaide, about turn and back down to Glenelg. Stop there for a coffee and see which Pro Teams you meet! They were all out spinning their legs. I grabbed a table next to the Mitchelton-Scott team, and they were quite happy for a selfie.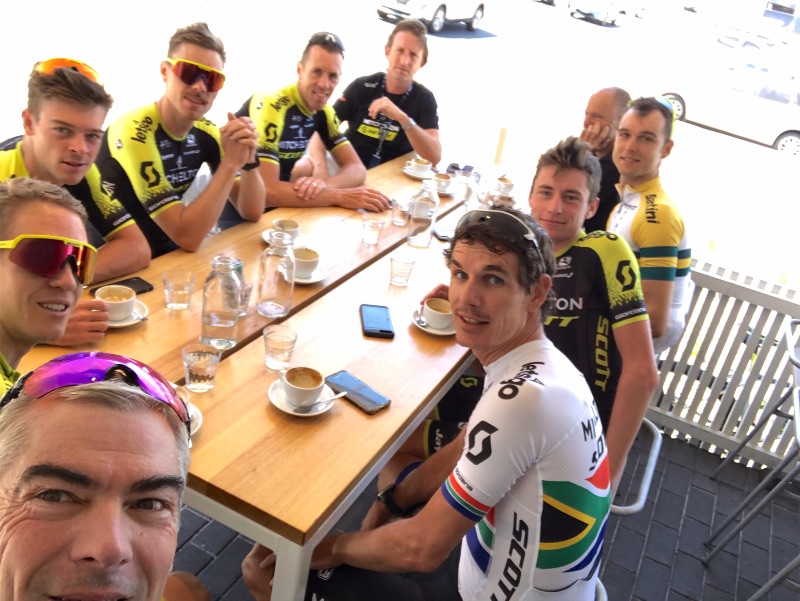 During the evening it was the team presentations in the Tour Village, so I went watch those.  The Tour Village is setup for the duration of the racing and a few days around it. Plenty to see and a good atmosphere. Manufacturers have bikes, accessories and clothing on display, some bargains to be had. A big screen for watching the racing live each day and food and drink is readily available for the thirsty bike riders!
Jan 13th. For the next day's ride, I headed out towards the Gorge but spot the UAE team just ahead, so after a quick burst of speed, I close the gap and query if I can follow them. Neil Stephens is the DS this year and he says it's ok to tag on the group. Another local who always does this joined us on route a few km further along. They rode a good tempo and we covered a part of a stage with a few laps of the hilly part. On the climbs, the pace went up and the talking stopped.  Lots of fun! Thanks Neil!  Post ride, I catch the tram over to Glenelg, 40 mins or so and $3 to lie on the beach. Have a dip in the sea and discover that its cold, not like the Med Summer feeling! On the tram ride back, I get chatting to some cyclists and end up going with them to watch the Down Under Criterium, which was very hot and very fast but in a great location in the park area. Great entertainment!
Jan 14th, I head out at 9am on my own to check out some routes for future years. I go up the Old Norton Summit climb. I'm pleasantly surprised at how pretty the roads are up in the Adelaide Hills. Great surface, quiet and also challenging, it's either up or down. The gradients are steeper than Mallorca, so 10% quite a lot. As the roads are wide, with sweeping bends, you can really descend very quickly! I stopped in Uraidla for a coffee and a few other riders were also there. Bit of chatting and then the easy end to the ride going back down. So many stop lights though, so AV speeds never a true reflection of the riding speeds.
Post ride today was an absolute bonus, courtesy of the wonderful Ian Pibworth. I met Ian on my first days ride and he offered to take me around in his car in the afternoon. So I get a tour round all the famous climbs and routes! Really helpful. Ian is part of the 'Ride for a Reason' charity and they annually raise lots of money for a worthy cause during the TDU.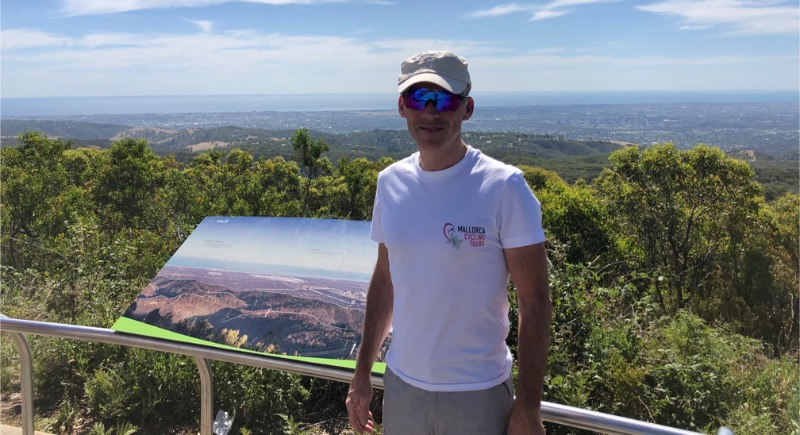 Jan 15th. I meet up with Gino and his friends at 7am at Junipers. We head out with Alex leading the way for a 110km ride and 1000m+ of climbing. Temperatures hitting mid 40's in the last hour or so. We cover Norton Summit, Summertown, Uraidla, Handorf, Stirling, a forest area and ended down to Bel Air into the city at 4pm. Long day out. Saw Kangaroos and really great views. This was followed by more sightseeing around the Adelaide city, checking out cake and chocolate shops.
Jan 16th Rest day! Down to Glenelg beach, lie in the sun and a longer swim. When back wander around the Tour Village. Try out another restaurant in the evening and found a place with great music and atmosphere.
Jan 17th I meet up with Kirsten and her friends. Early 6am start from the Intercontinental, just by the station. Out up Norton Summit, so done that twice now, over to Lobethal for coffee and a sausage roll. Back down Gorge Rd and we stopped for a Koala.  Post ride I tried Ricontis on Leigh St, and it was delicious. Bit more upmarket. Lots of Pasta today. In the evening, I rode the Beat the Street TT. A sprint up and down part of Finley Street with four dead (U) turns! New to Campag shifters, I managed to drop the chain onto the little ring on the 1st ride as I sprinted away. It was a late night and couldn't sleep after racing so late at 21:30!  
Jan 18th. This was supposed to be a rest day ride as it was the challenge ride (Sportive) on the 19th. I headed out up the gorge to do the corkscrew. A group past me, so naturally, I jumped on the back. They speeded up and by the time we start the increased gradient we were really motoring. I enjoy it and as I was still in zone2 continued. Then it got very fast (red line!) up by Kangaroo Dam, until they turned left for another climb. The logical part of my brain kicked in and I stopped. Then I thought, where was the corkscrew Rd? I had passed it nearly 4km earlier… As I rode back down, I saw the remains of what had been the group I was with earlier! I took it easy up the Corkscrew and discovered that it was a really pretty road as well as having the famous hard climb, 18% I think. Got back and more pasta in Ricontis again. Bed reasonably early that night as it was a 4am wake up.
Jan 19th, Saturday. The Challenge Ride day! Up at 4, eat, ready and out at 5:15. Rode down to Glenelg and was there at 5:40 to join the big queue! They had a cloakroom service, so I had taken a bag with me that I handed in and then it was ready to go. 6am start and a police escort for the first 8 or 10km.  I got myself up to the front 20 or 30 ready for the speeding up. About 4,000 riders on the route.  I find out a few ex pros are with us, including Patrick Jonker, who also helps with the Ride for a Reason cancer charity.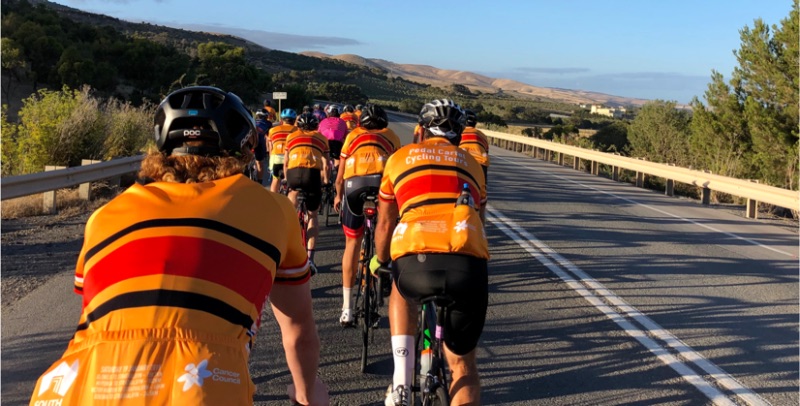 The route is great, lots of space initially but the pace up the climbs is very high. I'm over threshold HR on every uphill. The group is down to only 10 riders over the top each time but then they ease up and the heavier riders get back on each time. The front group don't stop at any of the food and drink stations, it's just a race! I hadn't planned on no stopping! Near the end my right foot got so painful that I had to ease up somewhere, so 6km to go I pulled over and loosened my shoe for a while. I resumed and chased, holding the gap but finished 1 or 2 mins behind, still 21st fastest on the day! 158km, 1,300m, 4:16 at 37.0km/h. I had booked a coach to get back, so dropped my bike to the trailer but as it was 2 hours before the bus departed, there was time for a walk about and a few ciders in a pub/bar. I chat with some of the riders and it was a great atmosphere. Lots of tales of the event and the reasons why fitness wasn't where it could have been, bad nutrition on the day… So Bus back, then lots of pasta again but at the Black Bull. I also Enjoyed a cheesecake that night!
Jan 20th. Last day. This is the day to ride out at 9 or 10 with a group to see the stage finish on Willunga Hill.  However, for me it was hotel checkout at 12 and as it would be too much of a rush, I rode out early on my own. 6:15am start, ride the route, non-stop (just like event the day before!!) and it was another 4 hr ride.  The McClaren Vale area with huge vineyards was really impressive! And Willunga Hill was tough, especially with the headwind up it and no coffee and cake stops!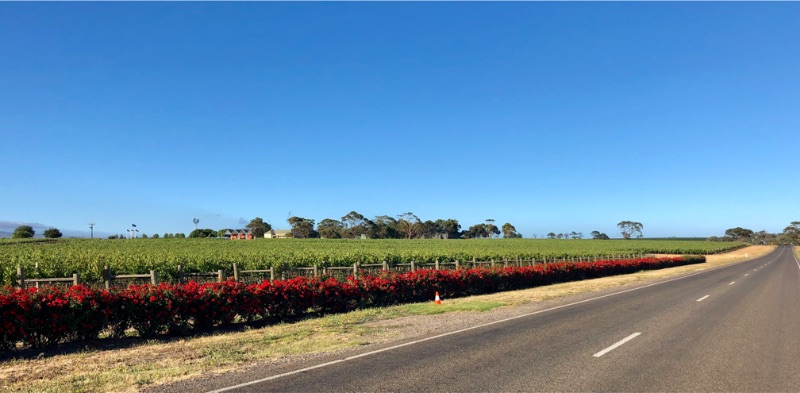 Summary
It is a long way to travel, it is a bit more expensive than a cycling holiday in Europe and for those who don't like the heat, it is quite hot. However, it was an absolutely amazing time! A great city, cycling friendly, good roads, beautiful views, lots of places to stop, thousands of other cyclists on the roads every day, the TDU with it's superb professional setup, great racing to watch, evening entertainment at the following days starts, bus transfers to get out to stages, the challenge ride (Sportive) to take part in, evening races to compete in, an abundance of good restaurants, etc, etc. There is something for everyone and best of all for the Northern Hemisphere folks, it means a few weeks of Summer during the Winter!
It was good enough for us to plan to include this as an annual guided cycling trip. So along with Mallorca and trips to France and Italy that are always in demand, this one is a must. To participate on this one, riders need to have a reasonable level of fitness and cycling experience, it is not a trip for newcomers to cycling. For a week, 10 days or 2 weeks of cycling, in the sun, riding on the routes that the Pro's race on, it ticks all the boxes! Experiencing the TDU is similar to saying you have to go to Mallorca and ride to Cap Formentor, Sa Calobra, Sa Batalla, etc. It's that good!
If you like the idea of joining us for a flexible guided bike rides trip to the TDU in 2020, then get in touch and have a chat with us. Click Here to enquire
A few pictures from the trip.