The Tour Down Under 2020 Trip – 8th to 31st January
Cycling in Adelaide during January, with or without involving 'The Tour Down Under' should be something on every cyclist's bucket list. It is safe, very scenic, as challenging as you want it, great fun and as it's Southern Hemisphere Summer, it's warm, so you ride in Shorts and short sleeves! The cycling roads are good quality, bike paths are excellent, the drivers courteous. The Adelaide Hills are called hills but you can easily swap that term with small mountains as they feel pretty much the same! The city is clean, has lots to offer in terms of parks, architecture, hotels, restaurants, shopping, beaches, hills, Koalas, Kangaroos, vineyards/wineries and is great value for money.
For more details about the travel, accommodation, dates and durations, the cycling terrain, what to do, pre and post ride, then read the following sections!
Travel
For the UK folks, one of the shortest journey times is to go via Dubai. For us that was a 7 hr flight to DXB, a 90 mins connection wait and then a 12 hr flight to ADL. So less than 23 hrs travel time.
On arriving in Adelaide, the airport is pretty small, so no long walks and baggage reclaim is about normal speed. Fill in the immigration card during your flight and then the processing for immigration control is done while you are waiting for your bags. A word of warning, ensure your shoes (boots) have clean soles and no mud on them otherwise you will be taken off to another queue for further checks. Based on last years' experience with the taxis, we used Uber and it was the usual excellent service and price. You have to exit the arrivals hall, head to the left, cross the road, left again and wait on the left side on the path. Once there, it's obvious. 20 mins journey, costs about 20 AU dollars.
Warning Note for the return flight: We struggled with weight allowance on check in, they are very, very strict in the Adelaide airport check in! I had the same problem previously… There is nothing to do once through security. It's a tiny departures area.
Accommodation
For accommodation, there are many options, all a good standard and value for money. For being close to the TDU, there is only one option and that is the Hilton in Victoria Square. This is also where the teams stay, so you maximise your chances of bumping into riders and getting selfies, etc. To maximise time around the teams, we stayed in the Hilton for 2/3 of the trip and then tried a self-catering apartment (Franklin Apartments) for the remainder. Previously, I had stayed in the Holiday Inn Express and it was quite well positioned, just 10-15 mins walk from the Victoria square Tour Village. It's just off Hindley street which is the 'party' road for the City. Aside from that it was a good standard, had quite a few other bike riders staying there and they were mostly annual returners for the TDU and liked the hotel.
Most Hotels have Breakfast from 6:30 or 7 on weekends, which isn't quite early enough for some of the group rides, which can start between 6 and 7am, especially if it's hot weather. That's where the self-catering came into it's own. Eat whenever you like and having a washing machine to take care of all the cycling clothes!
Our experience?
For the Hilton, we stayed in a room on the 18th floor and it was wonderful. Great views, quiet and comfortable. We had a shared (floors 17-19) lounge on the 18th floor, for breakfasts, high tea and evening Canapés and drinks. Wonderful views while enjoying a relaxed breakfast or early evening snack. No problem with keeping the bikes in the rooms there.
The Franklin Apartments were really comfortable, not so hot on the views but the staff were really helpful and it was a very safe and secure place to stay with your bikes. Bikes could be taken up to your room in the (very small) lift without any problems.
The plan
Being the second time at the TDU, it was almost a copy of the plan for the first trip there! Studying race routes, the previous years routes and the popular ('Strava') segments! The new plan was to re-ride as many of last years routes as possible, ride lots of new ones and risk asses all of them for the future guided group rides. While doing this, remember to also have a holiday experience! We had local contacts from the previous trip, as well as ride leaders who had been taking groups around for a number of years and they were going to share a few more routes. Being mindful that staying in Adelaide was likely to be more of a B&B type experience, we also needed to check out the Restaurants.
The Experience
So how did we find it, what was the experience? Absolutely awesome, in fact that still doesn't do it justice, it was quite simply everything we could possibly have wanted from a cycling holiday of this nature.  Now that obviously is a personal viewpoint and we all want different things and have different standards, tastes, fitness levels, etc. So to put this into perspective, I will try to relate this to our 'Base Standard' of cycling in Mallorca and the typical kind of rides and fitness levels that cover most cyclists we spend time with.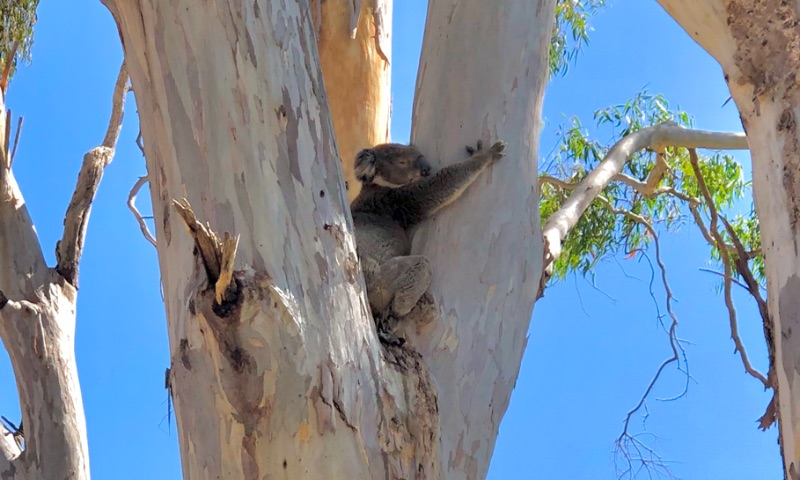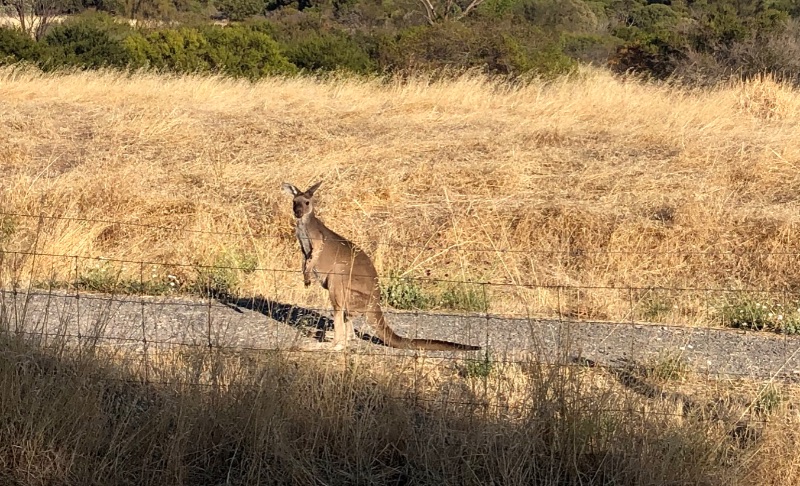 Dates
There are three phases to a long trip (3 weeks) at the TDU. The week before the racing, the race week and the week after the racing. You don't have to be into racing to enjoy any of the rides during the racing days, so that doesn't need to impact your choice on the dates or duration of your holiday. Race week just means that there are many, many cyclists out cycling together every day, so there is a real buzz about the place! The week before sees a steady build up in cycling numbers and after the race, the numbers drop off very quickly. Pre-race week also gives you the best chance to meet any 'Pros' and join some of their training rides.
Terrain
The city itself is pretty flat, as is any cycling out to the west to the coast. Head into the Adelaide Hills and you get some serious gradients, workouts and enough altitude to keep most cyclists happy. In Mallorca, most of the Mountain climbs tend to be 5-7% and just vary in length or duration. Gradients vary by only a few percent during the climb. The Adelaide hills tend to be steeper, so say 7-10% but with quite a range of gradients and more variation during each climb. Rule of thumb, take a lowest sprocket 2 or 3 teeth less than you would use in Mallorca. Mallorca has super smooth roads whereas Adelaide has quite smooth roads but they aren't bad, just different. The good news is that even though they can feel slightly rough or buzzing, they don't have many big holes, so you don't have to worry that there may be some crater round the next corner. The big plus is that there is very low traffic volume. You can pedal a long way and not see many cars and those who pass you do so courteously. Punctures? Personally, none experienced.
Once up into the hills, after 20-40 mins of climbing to get out of the city and up there, it is undulating within the range most cyclists will venture, so you just gain and lose a 100-150m or so on the longer hills.  The bends are more like long curves, can be taken at speed and you can reach some quite high speeds on each ride. You ride past vineyards, forests, lakes, through pretty villages or townships and they are all quite different. The air is quite dry, so sweating isn't such a big issue.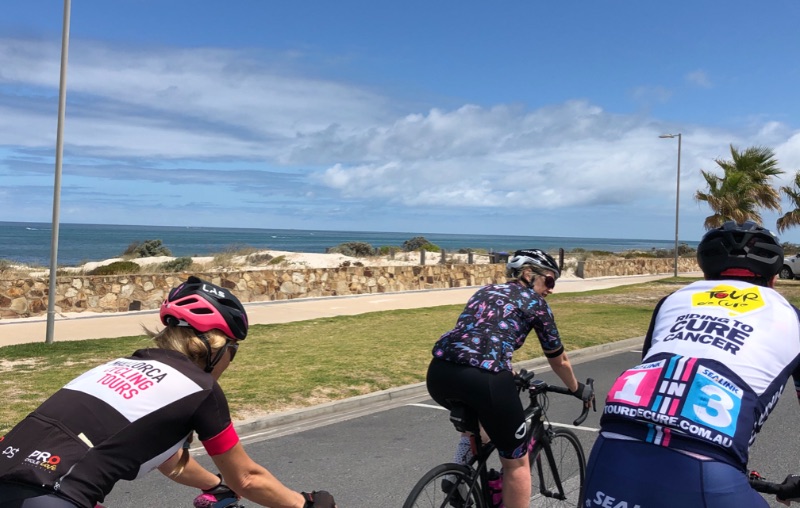 Routes
Most bike rides had a similar format to what we would do in Mallorca, so ride for 90-120 mins or so and then stop for a coffee and cake. The ride back would then be a similar 90-120 mins or so. We alternated days to make them harder and easier and tried not to stay out for so long that we needed too much recovery.  While cycling, you meet or pass lots of other cyclists and it's all very social with lots of hellos and acknowledgements.  The locals tend to talk about stopping at Bakeries for the coffee during their rides and often have a sausage roll instead of cake!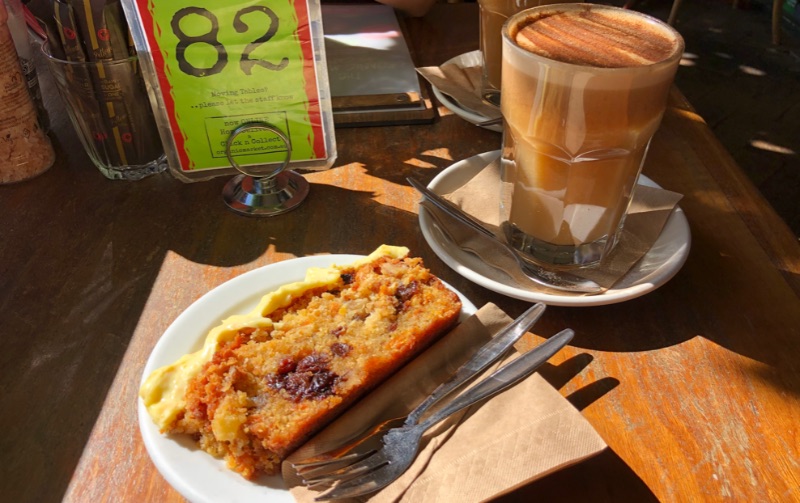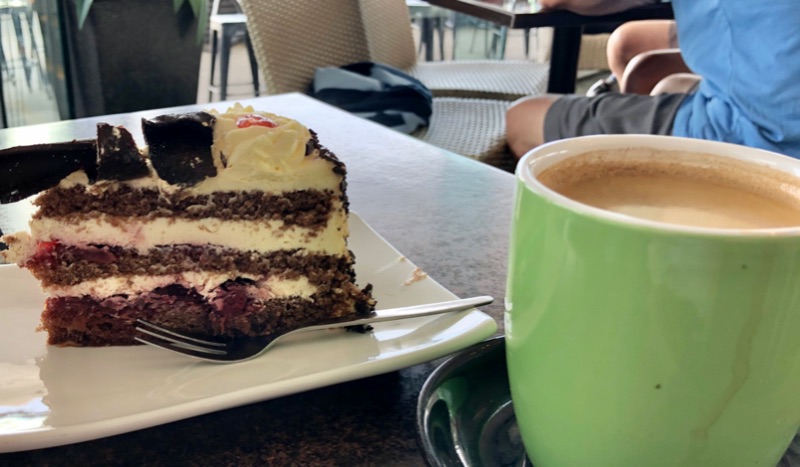 Pre-Ride
Friends, Groups, Teams, they all do it differently, but you can mix and match! Quite a few of the meets are based around a Bar/Café/Restaurant that opens early, so this could be a pre-ride coffee at 6:30/6:45am with the ride starting at 7am. Some Rides start at 6am, some at 8am, the Pro Teams tend to be a bit more relaxed and start around 9:00/9:30am, from the Tour Village.
A really popular stating point was 7am at Hey Jupiters Brasserie on Ebenezer Place. The street was full of cyclists most mornings.
Post Ride
This was quite varied.  It could have been grabbing a bite to eat on the way back to the Hotel while on the bikes or going straight out to eat. Sightseeing or shopping as there are lots of places to visit. Wandering around the 'Tour Village' once it's open and attending the free talks, presentations, competitions or checking out the manufacturers stands or tents.  To go further afield, you can use the Tram (free within the city centre) or use a bus or train to most places. There are also lots of city cabs and Uber that you can use.  As we were still 'working', most days involved a good few hours of emails, social media and related admin.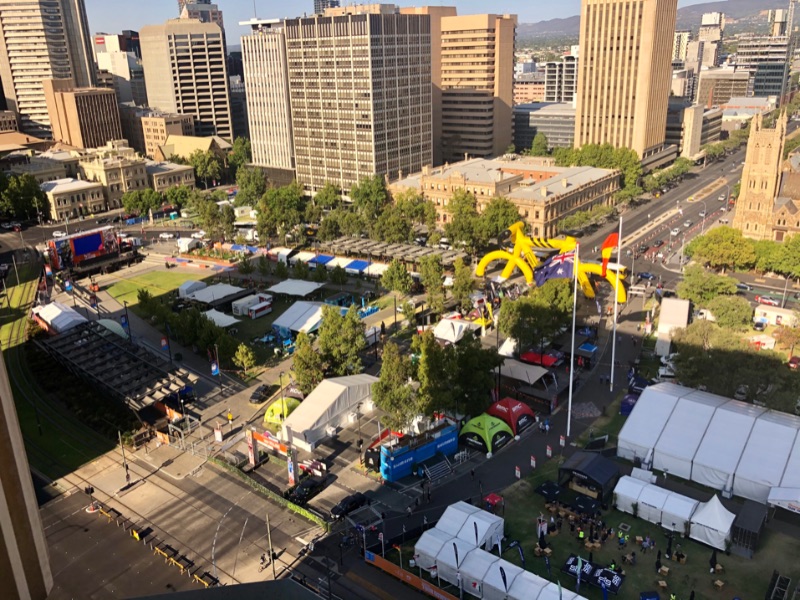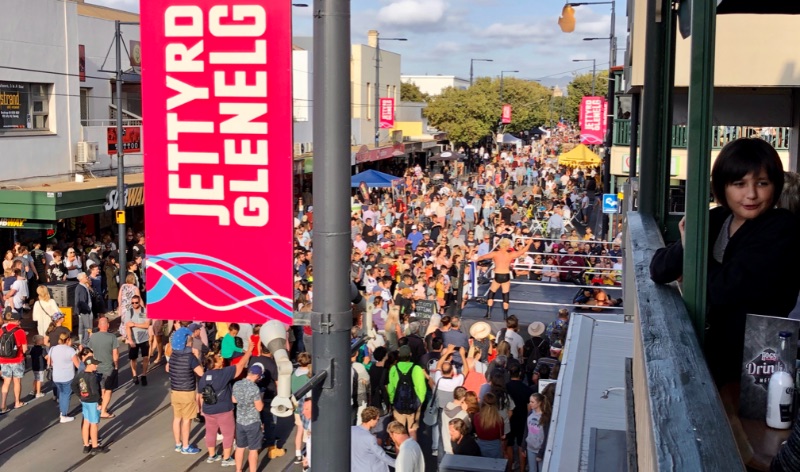 Afternoons and Evenings:
Adelaide is a business city more so than a tourist destination so quite a lot closes relatively early but during the evenings, from around 7pm, there are plenty of Restaurants, Bars, Pubs open to enjoy all manner of culinary tastes. Just around the corner from the Hilton, there is the Adelaide 'Central Market'. This is full of fresh food produce, some shops and lots of cafes or takeaways. You can find something for everyone. For example – House of Organics, Le Souk, Gourmet to Go, Big Table, Sunmi's Sushi, Zuma Caffe, Vegas Poultry, The Yoghurt Shop, Barossa Fine Foods, Coffee Bean Shop, Asian Gourmet and many more!
Ricontis on Leigh St for Italian
Black Bull on Hindley Street
Bowlsome on Franklin – Super healthy salads and smoothies
Public Café on Franklin, trendy bar and with food
The cycling diary:
This has been written more as a set of diary entries and then for any stats, Strava and Garmin, they are in a table at the end. You can go check my online Strava to get more details. Total cycling distance was just over 2,400 km and 18,000m of climbing.
Jan 10th. The first bike ride was a city orientation, so a bit busy but the quickest way to adjust to the city's traffic volume. All the drivers were courteous, so nothing like cycling in a European city! The roads are all laid out in a grid pattern, some larger (3 or 4 lanes each side), some smaller but most of the 2 or 3 lane roads have a cycling lane on the side which is wide enough for 1 and sometimes 2 riders.
Jan 11th. The simple 'Beach Ride'. Straight out of the city to Henley beach, then up and down the coast around Glenelg before heading back. On this route, you always meet lots of cyclists. There are lots of cafes and a good bike lane running up and down the coast in this area. Afterwards, we thought we'd check out some of the local parts of the centre, so Rundle Mall and the Trams. To round off the evening, we enjoyed the first of many sunsets in the Executive Lounge while knocking back plenty of wine!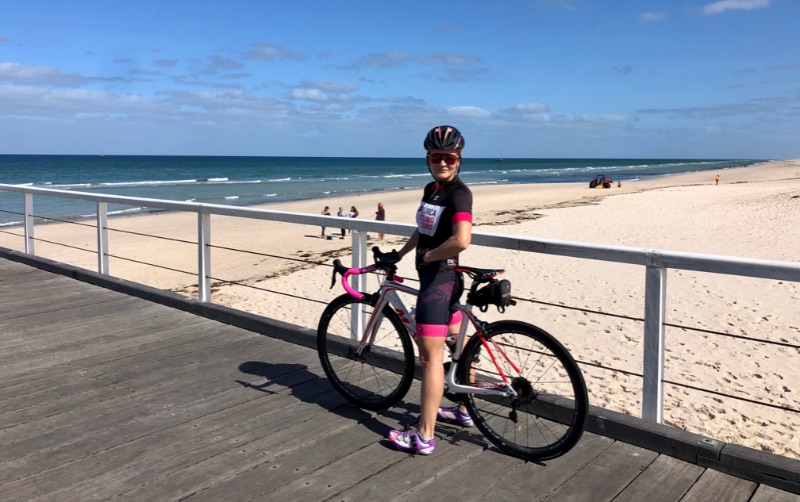 Jan 12th, the 3rd ride was Norton Summit, and the pretty lanes around there. I Discovered that Zuzana was brilliant at spotting Koalas, lots on every ride. Norton Summit is a bit like doing the Sa Bataia or 'Repsol' Petrol Station climb, just a little bit shorter. It's a really popular climb, Strava segment and everyone goes up there at least once! Super views at the top, lovely roads to then take you across the hills and loop back later.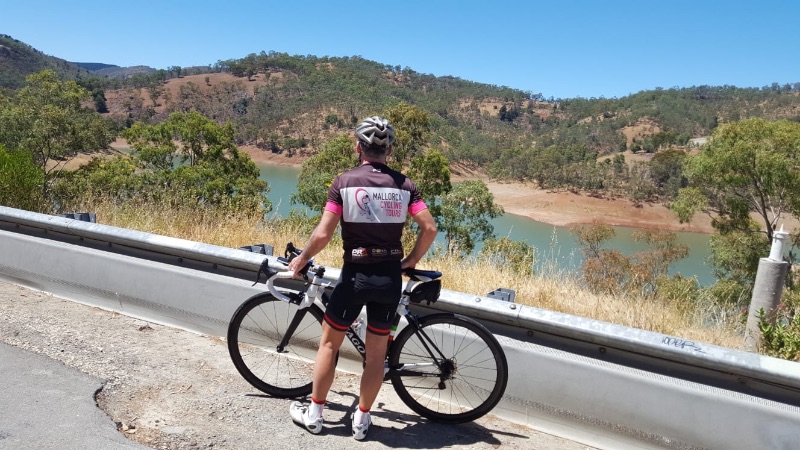 Jan 13th, the 4th ride was over to Glenelg and then down south to Moaner. Spectacular scenery and the coast road a bit like Cornwall, very short Steep inclines! We rode back on the Veloway, an excellent bike path, alongside the Freeway. The coastal route had some of the best views and amazing looking beaches all the way.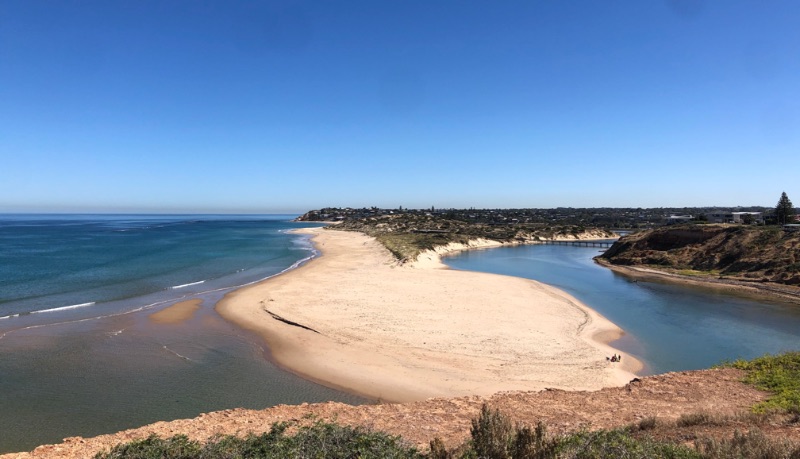 Jan 14th, the 5th ride was up Norton Summit (15:35 for segment), then Uraidla, Balhannah, Hahndorf and a loop to Stirling and back via Sturt and Belair. After the ride, a tram ride to beach time at Glenelg. Uraidla area is a must, it nearly always has a stage go through or finish there.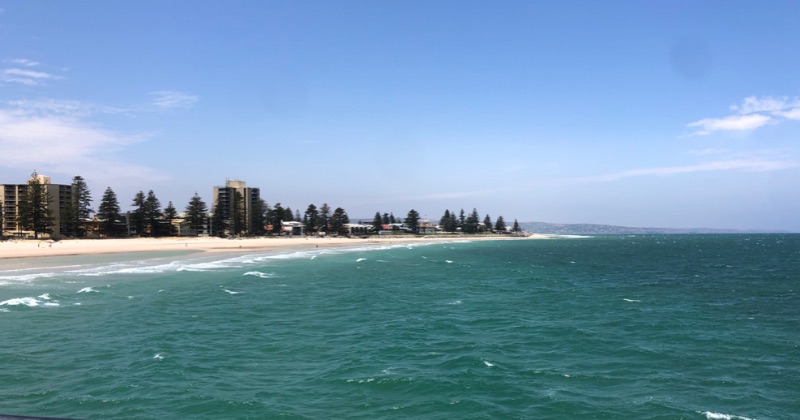 Jan 15th, this was a real no cycling day!
Jan 16th, the 6th ride was up Gorge Rd, Kersbrook, Williamstown, a stop for Cakes, then back via Birdwood, Cudlee Creek and the Cudlee cafe, where we met the Jumbo Visma team. Rode down the Gorge with them. Gorge Road is very popular, it's a long steady climb with varying gradients and passes Kangaroo Creek before you reach Cudlee Creek. Some of the gradients really ramp up and push you to the limit if you don't back off. We saw 3 or 4 Pro Teams while out on this ride and when we stopped at Cudlee Creek Café, the Jumbo Team, who had just passed us had also pulled in there. They were really friendly, we had a selfie and they also gave us some water bottles as we all left. We tagged on the back for a while but with some of the steeper gradients it was becoming rather challenging for Zuzana but she told me to enjoy it and stay with them, so I did. Super fast descending and super smooth pacing, it doesn't get any better than this!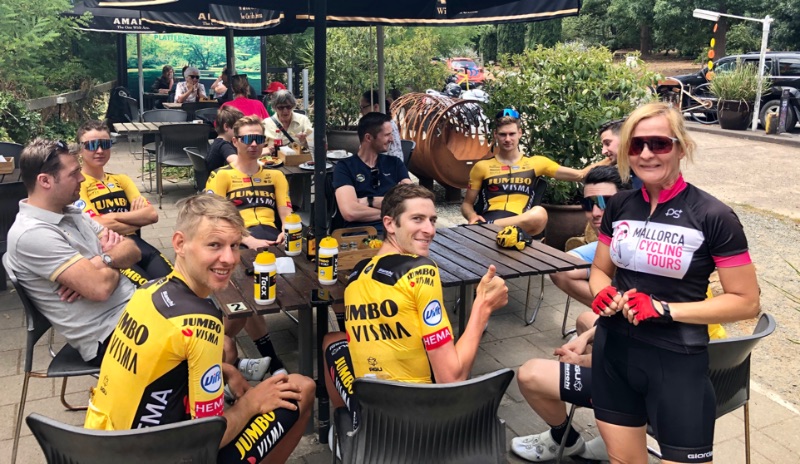 Jan 17th, the 7th ride was up Greenhill Road (28:57 for the Segment) and out through Balhannah to Woodside and Mount Torrens where we watched the Women's stage go past. Then checked out the Hill for the KOM of the Stg 4 that we would be doing. Leisurely ride back through Lobethal, Lenswood and down Norton Summit. Later, we checked out the Tour Village, which was getting completed and Zuzana managed to get a selfie with Andre Griepel. Note: Greenhill is a longer, steady climb out and can be slightly busy with cars if you get the time wrong.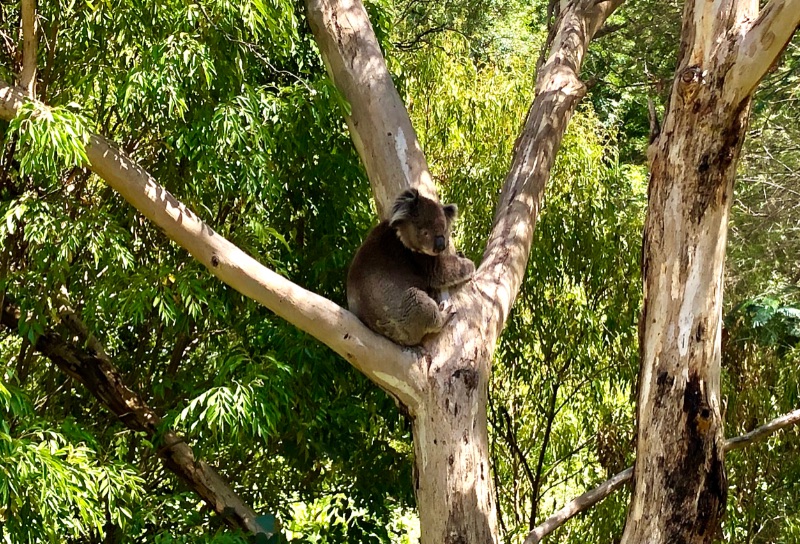 Jan 18th, the 8th ride was a short hard one on my own, up Corkscrew (Santos Corkscrew Segment 11:16) , down Montacute. It was lot of fun as I ended up riding with another rider who was doing exactly the same and we enjoyed some joint suffering! In the afternoon, we were out with Ian for a Wineries tour and lunch in Uraidla. In the evening we watched the Pro Team Presentations in the Village.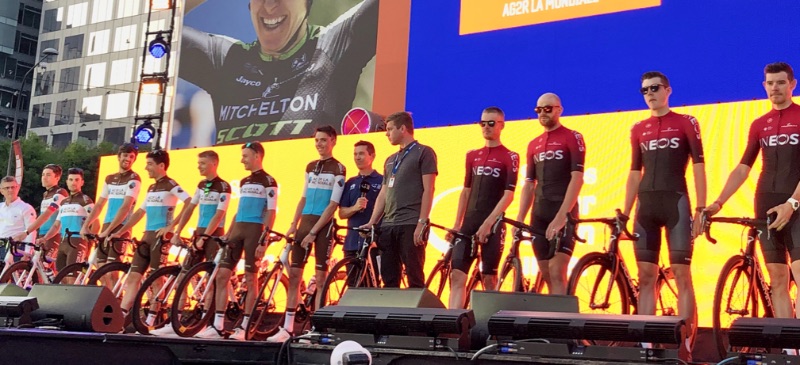 Jan 19th, the 9th ride was to Port Adelaide and the Henley coast. After we had set off, we had a lovely surprise as a Pro group out for an easy spin came past. It was the Israel Start-up Nation team and so we tagged along with them for a while. As always, Alex was friendly and relaxed and swapped a few pleasantries. Andre was wondering if we had taken to stalking him as Zuzana had taken a selfie with him the day before… In the evening, we watched the Crits and being a small circuit, it was exciting with lots of attacks and tactics to fathom.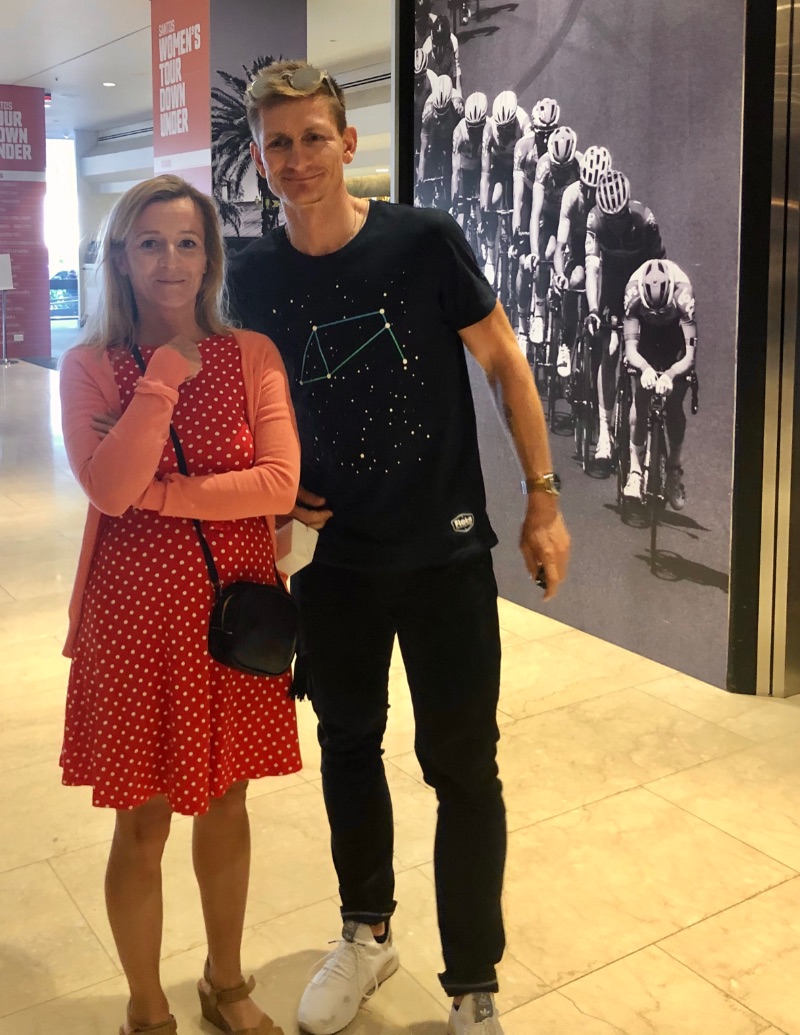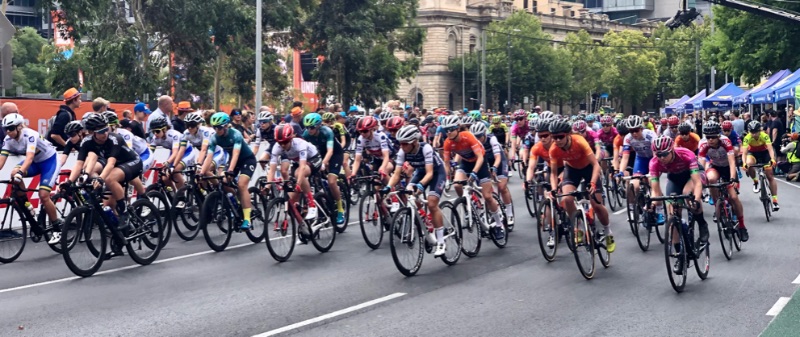 Jan 20th, the 10th ride was a short but hilly ride. Up Montacute (super smooth tarmac) (13:44 Segment) and back down Norton.
Jan 21st, the 11th ride was with our local friend Ian Pibworth, and we went to Williamstown via the Challenge route to pre recce part of the course. We also visited the Whispering Wall at the Dam on the way, very impressive! On the way back, we split routes, as I wanted to check out Checker's Hill (Checkers Hill 3:32 and Base to Peak 10:17). That could be labelled as an error in judgement, as it was a seriously steep and tough climb! I never caught them up on the run back into town. 125km and 1,972m of climbing.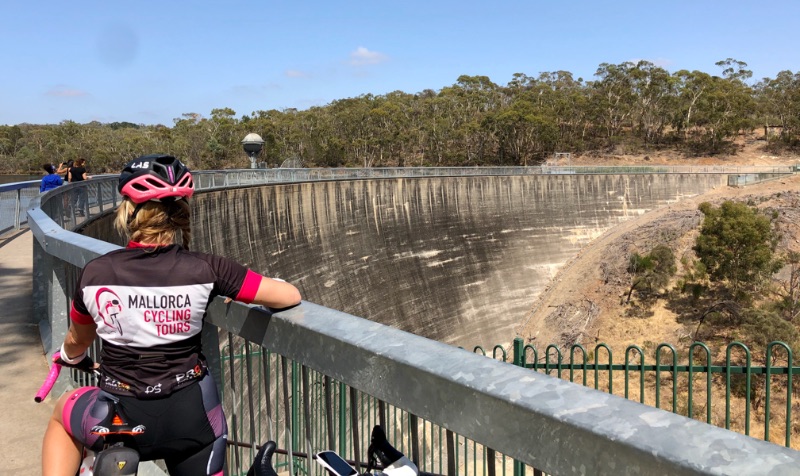 Jan 22nd, the 12th ride was on my own, gently up Mount Osmond (8:19 Segment), Crafers bike path, Mount Lofty, Stirling (where the stage was finishing later). Later, we watched the stage finish in the Tour Village.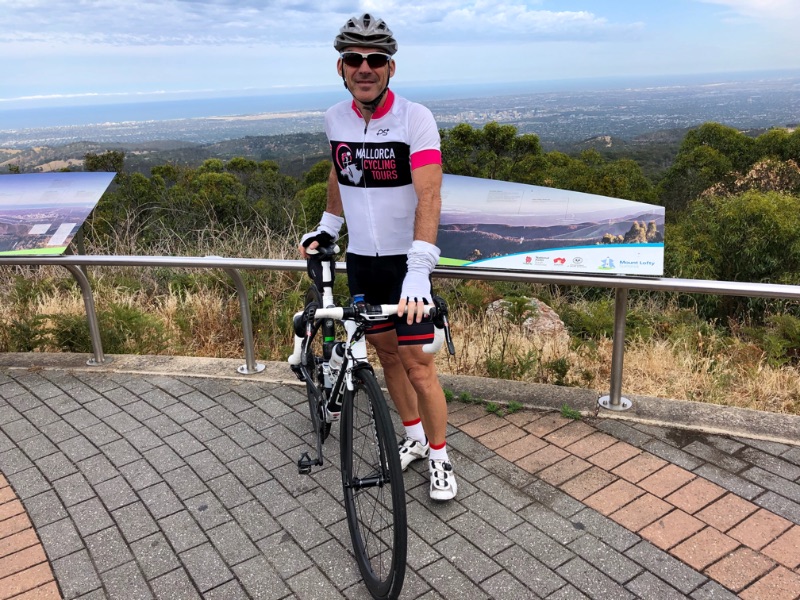 Jan 23rd, the 13th ride was watching the stage start in Norwood, then followed by an easy beach spin around Glenelg. We spent the afternoon in the tour village and attended the Power talk by SRM with guest speakers Adam Hansen and Rachel Naylen.  The next morning was the Challenge Stage ride, so today was a relaxing day, before the following days expected suffering!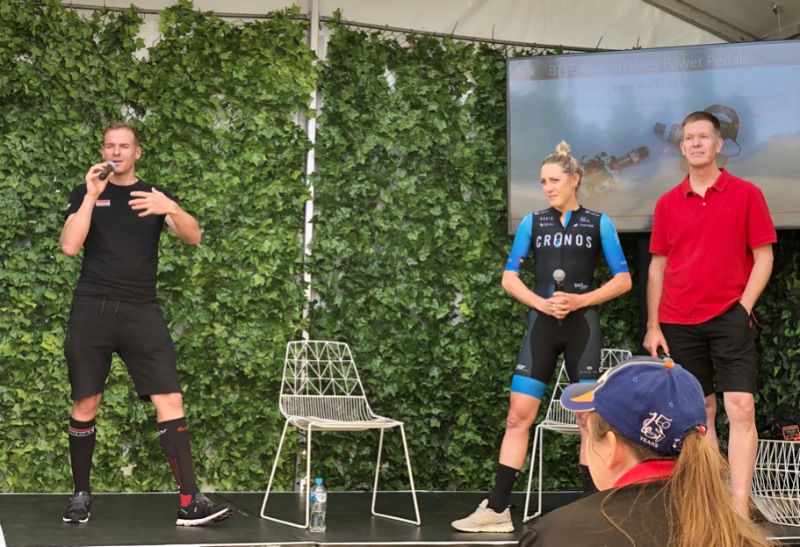 Jan 24th, the 14th ride was the Challenge Ride, covering the TDU Stage 4 route. 162 Km with 1500m of climbing in 4:25 at 36.5 km/h.  This resulted in a 287 score for relative effort on Strava. It was a fun day on the bike! It meant an early start, cycling to Norwood at 5:30 for the 6am start.  I got to the front pre-start and stayed there all the route until 10km to go when the group finally splintered.  Ride time was 4:25 and Zuzana did really well in 5:30. Smashed a few Strava Segments that day, Gorge Rd Full 40:50 at 34.1km/h, Kangaroo Creek Dam Climb 5:36, Mount Torrens Hill KOM 4:32. After drinking lots and walking around the finish area, we caught the pre-arranged bus transfer back.  After a swift wash and change, we were off on the tram to the evening Street Party in Glenelg, no rest for us!  It was a very impressive Street Party, so much going on, a wrestling ring, dancing, music bands, fashion shows, etc as well as the expected food and items for sale.  We had a meal in a restaurant with a balcony, so we could look down and watch the party as well as the view out over the sea.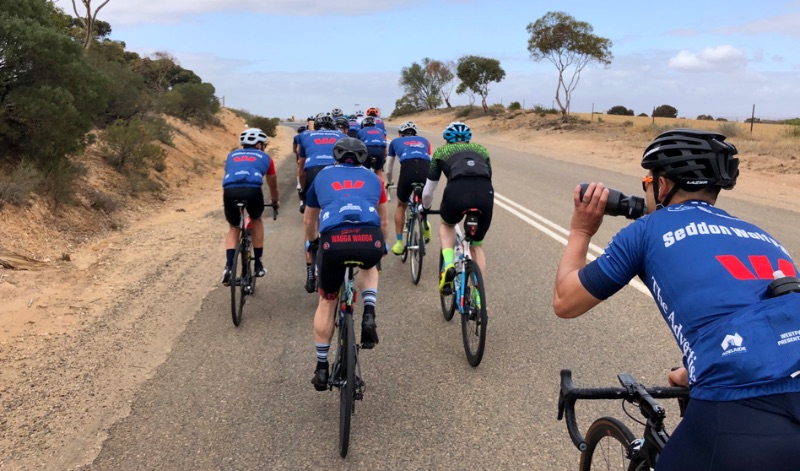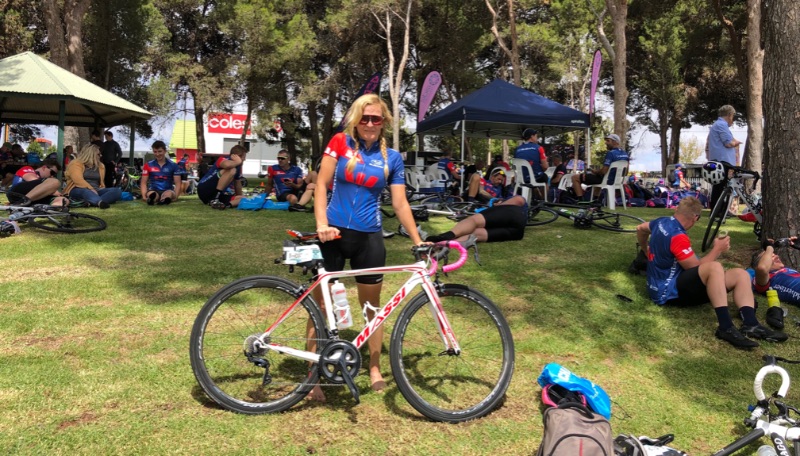 Jan 25th, the 15th ride was watching the stage start in Glenelg, met with Kirsten for coffee and then a gentle spin back via Henley for recovery. In the evening, we had the Legends Dinner, which was at the Adelaide Convention centre, not the Hilton!  Celeb Ewen, Fabian Cancellara and Kristina Vogels. We saw Phil Liggett become Dr Phil!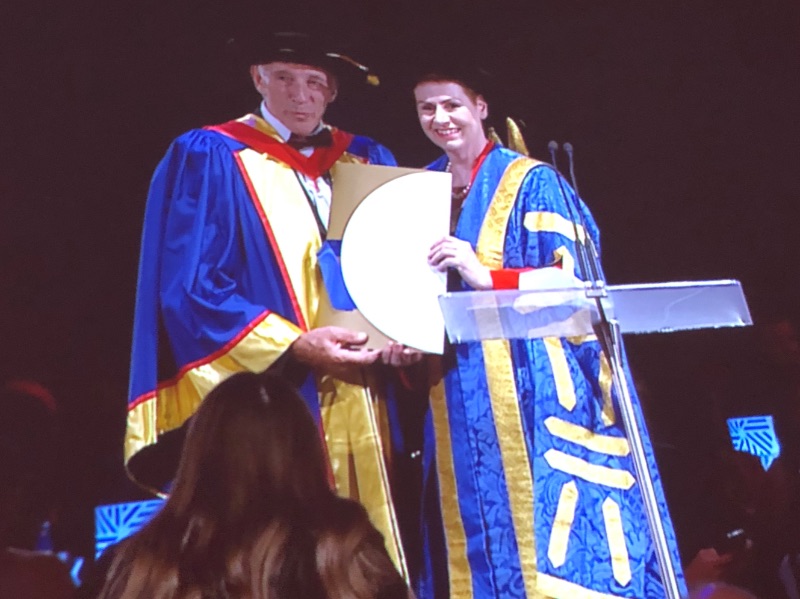 Jan 26th, the 16th ride was Willunga Hill day, the last stage.  Up Crafers, with Ian and Kirsten. We went out via Chandler's, D'Arenberg and the Cube. Then McClaren Vale for the stage start.  Pie and cake, then on to the Hill. Rode up it on my own (had to set a time of sorts (11:01 for Old Willunga Hill)), back down, then we all went up to find a spot at 800m to go to watch for the stage finish. Porte flew past!  Cycled back to town (not quite that easy, still more climbing!) and as it was Australia Day celebrations, more entertainment watching that for a while. An evening walk down to the Elder Park, got a spot in the riverside bar and we watched the Fireworks. Amazing!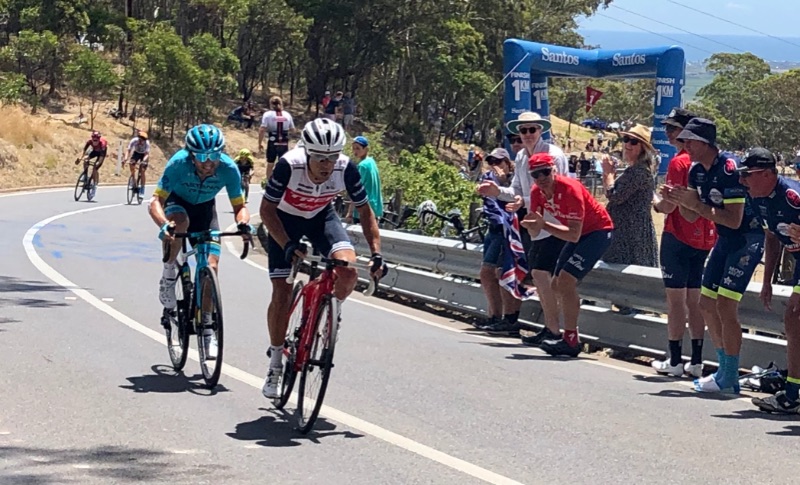 Jan 27th, the next day was a rest, so (I didn't rest…note for next time), did the Belair climb (Windy Point Climb 11:01), then rode round the Elder Park on the bike path.  Off to Ian's for the afternoon BBQ with his friends. Elder park again in the evening, watching the Australian Open Tennis.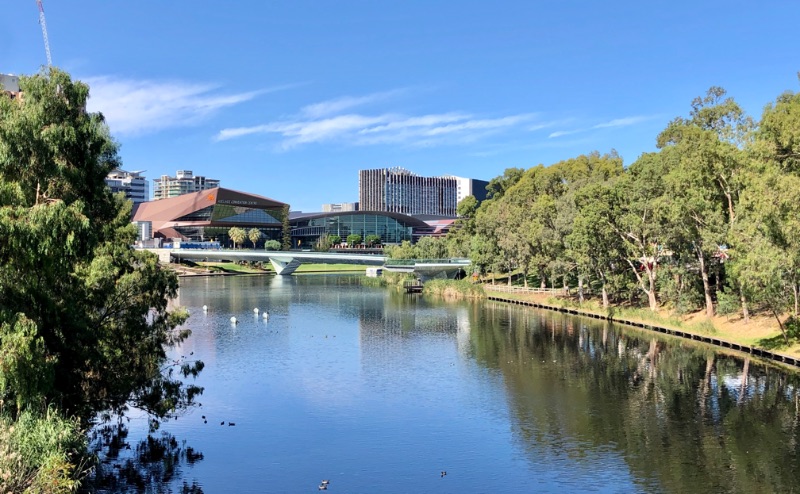 Jan 28th, the 18th ride was up Crafers (The Old Freeway Segment 29:36 steady), Stirling, Hahndorf after a loop via Totnes. Then Lofty summit and down Greenhill. Down to the beach afterwards.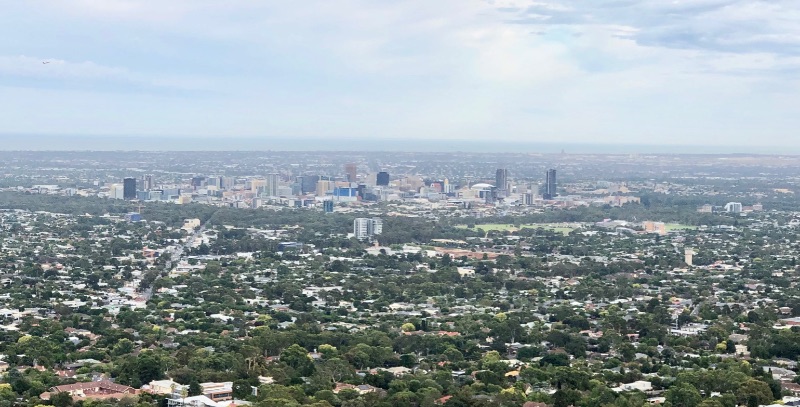 Jan 29th, the 19th ride started off slightly differently to normal. We tried taking one of the bike path trails out of the city. This started via Elders Park, following the river trail North Easterly and then back on to the roads by the start of Gorge Road. Up Gorge Road, Paracombe, Inglewood, round the Ponds and a stop at Cudlee Cafe and this time hardly any bikes on the road. Back via Kangaroo Creek, turn off and climb the Corkscrew and down into Adelaide via Montacute.  As there was still plenty of daylight and we could still walk, tagged on a trip to Glenelg and some beach time.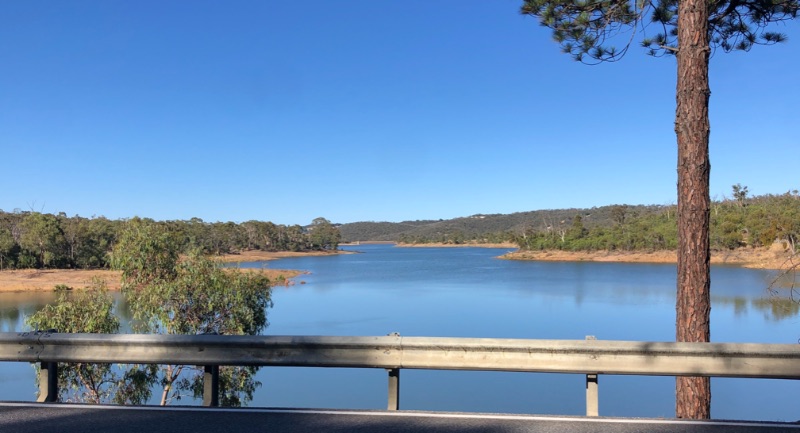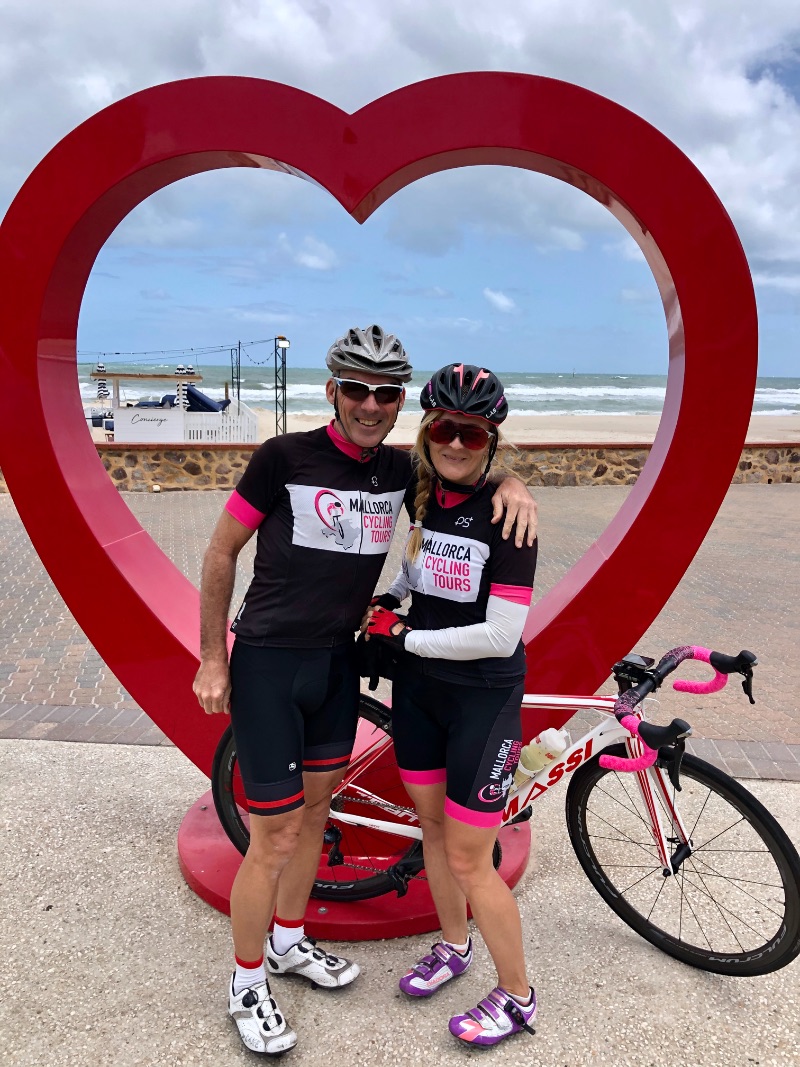 Jan 30th, the 20th ride, Anzec Highway, Cut over to the freeway and up Crafers. Along the Veloway and as a bonus, we saw Kangaroos! Down to Moaner but too early for a coffee. Onwards via the coast and cutting back to the Veloway, then back to Hallett Cove for cake and drinks. Up to Glenelg via the Cove Rd and Esplanade, then Anzac Highway in 42deg heat. Quick packing and down to the beach for the last time. Black Bull for dinner then off to the airport.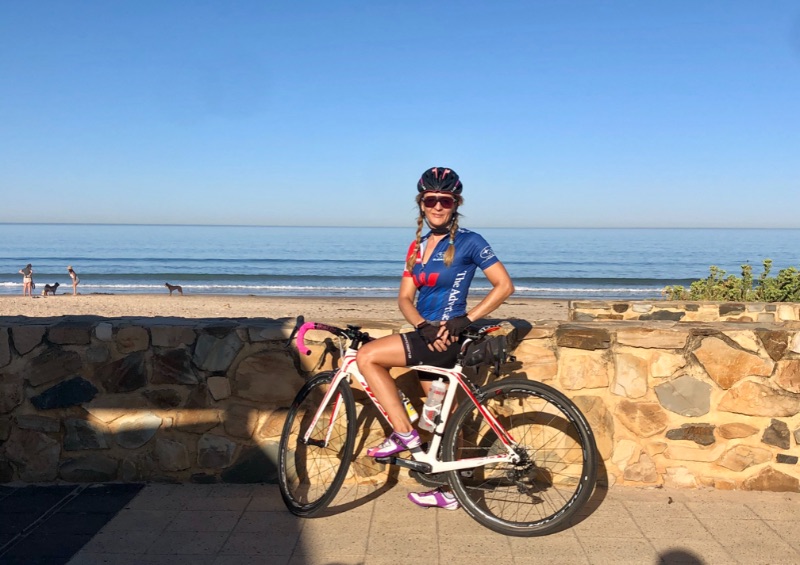 The longer Summary
It is a long way to travel, it is a bit more expensive than a cycling holiday in Europe and for those who don't like the heat, it is usually quite hot. However, it was an absolutely amazing time! A great city, cycling friendly, good roads, beautiful views, lots of places to stop, thousands of other cyclists on the roads every day, the TDU with it's superb professional setup, great racing to watch, evening entertainment at the following days starts, bus transfers to get out to stages, the challenge ride (Sportive) to take part in, evening races to compete in, an abundance of good restaurants, etc, etc. There is something for everyone and best of all for the Northern Hemisphere folks, it means a few weeks of Summer during the Winter!
It was good enough for us to plan to include this as an annual guided cycling trip.  To participate on this one, riders need to have a reasonable level of fitness and cycling experience, it is not a trip for newcomers to cycling. For a week, 10 days or 2 weeks of cycling, in the sun, riding on the routes that the Pro's race on, cycling with the Pro's some days, it ticks all the boxes!  Experiencing the TDU is similar to saying you have to go to Mallorca and ride to Cap Formentor, Sa Calobra, Sa Batalla, etc.  It really is that good!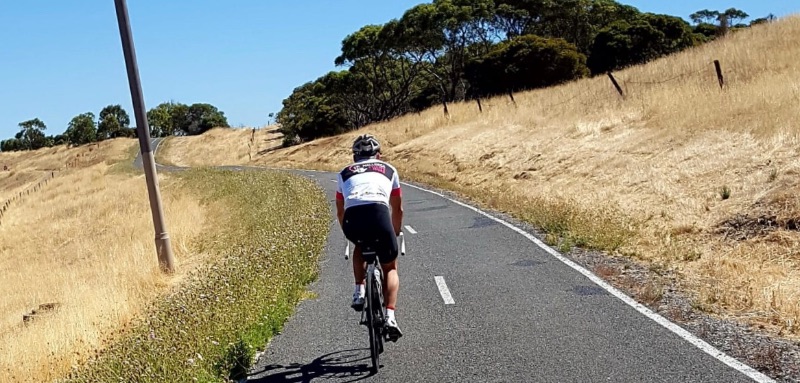 If you like the idea of joining us for a flexible guided bike rides trip to the TDU in 2021, then get in touch and have a chat with us.
Strava Data:
| | | | | | | | | |
| --- | --- | --- | --- | --- | --- | --- | --- | --- |
| Date | Description | Dist Km | Time | Av Spd | Elevation | Av HR | Max HR | Effort |
| 2020-01-09 | MCT @TDU Adelaide City Orientation | 19.23 | 00:46:38 | 24.7 | 62 | | | 0 |
| 2020-01-10 | MCT @TDU Adelaide Coastal Spin | 65.4 | 02:29:39 | 26.2 | 181 | 107 | 141 | 30 |
| 2020-01-11 | MCT @TDU Norton Summit, Lobethal, Gorge Rd | 81.7 | 03:11:01 | 25.7 | 1214 | 122 | 180 | 87 |
| 2020-01-12 | MCT @TDU Glenelg, Noarlunga, Moana & Veloway Bike Trail back | 79.6 | 03:11:03 | 25.0 | 745 | 115 | 153 | 60 |
| 2020-01-13 | MCT @TDU Norton, Uraidla, Hahndorf, Stirling, Belair | 76.7 | 03:16:09 | 23.5 | 1399 | 134 | 177 | 60 |
| 2020-01-15 | MCT @TDU Part of Stg4. Gorge, Williamstown, Cudlee Creek | 117.0 | 04:04:13 | 28.7 | 1221 | 133 | 168 | 182 |
| 2020-01-16 | MCT @TDU watching Women's Stage 2 | 102.5 | 04:10:09 | 24.6 | 1692 | 127 | 167 | 143 |
| 2020-01-17 | MCT @TDU GorgeRd, Corkscrew & down Montacute | 41.2 | 01:22:02 | 30.1 | 451 | 138 | 180 | 81 |
| 2020-01-18 | MCT @TDU Beach Ride Rest Day | 62.5 | 02:13:03 | 28.2 | 141 | 113 | 157 | 38 |
| 2020-01-20 | MCT @TDU Montacute and Norton back | 43.5 | 01:47:14 | 24.3 | 662 | 119 | 168 | 51 |
| 2020-01-20 | MCT @TDU Paradise, Whispering Wall, Williamstown, Checker Hill, Houghton, Adelaide | 125.5 | 04:58:58 | 25.2 | 1972 | 124 | 170 | 147 |
| 2020-01-21 | MCT @TDU Mount Osmond, Mount Lofty, Stirling | 49.6 | 02:29:07 | 19.9 | 990 | 107 | 144 | 35 |
| 2020-01-22 | MCT @TDU Stage3 Start and coffee at the beach | 26.1 | 01:06:54 | 23.4 | 88 | 94 | 139 | 9 |
| 2020-01-23 | MCT @TDU Challenge Ride – Stage 4 of the Pro Race | 162.0 | 04:26:19 | 36.5 | 1586 | 139 | 174 | 287 |
| 2020-01-24 | MCT @TDU Rest Day, Watch Stage 5 Start Glenelg | 46.7 | 01:48:37 | 25.8 | 100 | 98 | 131 | 16 |
| 2020-01-25 | MCT @TDU Stage 6. Willunga Hill | 129.5 | 05:23:25 | 24.0 | 2018 | 118 | 180 | 128 |
| 2020-01-26 | MCT @TDU Belair and Sightseeing | 26.2 | 01:04:16 | 24.4 | 306 | 115 | 170 | 26 |
| 2020-01-27 | MCT @TDU Crafers, Stirling, Totness, Mt Lofty, Greenhill | 84.4 | 03:55:21 | 21.5 | 1575 | 112 | 164 | 74 |
| 2020-01-28 | MCT @TDU River Trail, Gorge Rd, Paracombe, Millbrook, Corkscrew | 77.1 | 03:20:36 | 23.1 | 1025 | 106 | 160 | 51 |
| 2020-01-29 | MCT @TDU Moana via bike trail, Hallets Cove, Glenelg & CBD | 83.2 | 03:31:43 | 23.6 | 748 | 114 | 150 | 67 |
Garmin Data:
| | | | | | | | | | |
| --- | --- | --- | --- | --- | --- | --- | --- | --- | --- |
| Date | Title | Time | Miles | KM | Elev in m | Avg Spd kph | Max Spd kph | Avg HR | TSS |
| 10-Jan | MCT @TDU Adelaide City Orientation | 00:46:10 | 19.2 | 31 | 62 | 20.3 | 37.8 | — | 19 |
| 11-Jan | MCT @TDU Adelaide Coastal Ride | 02:28:28 | 65.4 | 105.5 | 181 | 42.6 | 53.8 | 108 | 91 |
| 12-Jan | MCT @TDU Norton Summit, Lobethal, GorgeRd | 03:33:11 | 81.7 | 131.7 | 1214 | 37.1 | 70.5 | 116 | 177 |
| 13-Jan | MCT @TDU Glenelg, Brighton, Noarlunga, Veloway | 03:10:09 | 79.6 | 128.4 | 745 | 40.5 | 63.8 | 115 | 124 |
| 14-Jan | MCT @TDU Norton, Uraidla, Hahndorf, Sterling, Belair | 03:14:03 | 76.8 | 123.8 | 1399 | 38.2 | 86.8 | 134 | 178 |
| 16-Jan | MCT @TDU Part Stg4 Gorge, Williamstown, Birdwood, Cudlee | 04:04:49 | 117.0 | 188.7 | 1221 | 46.3 | 76.3 | 133 | 217 |
| 17-Jan | MCT @TDU Watch WTDU Stg2, Up Greenhill to Woodside | 04:09:02 | 102.5 | 165.3 | 1692 | 39.8 | 70.4 | 127 | 236 |
| 18-Jan | MCT @TDU GorgeRd, Corkscrew, down Montacute | 01:21:31 | 41.2 | 66.5 | 451 | 48.9 | 65.4 | 139 | 90 |
| 19-Jan | MCT @TDU Port Adelaide, Henley with Israel Start-up | 02:11:49 | 62.5 | 100.8 | 141 | 45.8 | 48.2 | 113 | 96 |
| 20-Jan | MCT @TDU Montacute & Norwood | 01:46:34 | 43.5 | 70.1 | 662 | 39.5 | 56.4 | 119 | 100 |
| 21-Jan | MCT @TDU Paradise, Whisper Dam, Williamstown, Houghton | 04:58:07 | 125.5 | 202.4 | 1972 | 40.8 | 78.5 | 124 | 246 |
| 22-Jan | MCT @TDU Mount Osmond, Mount Lofty, Stirling | 02:29:10 | 49.6 | 79.9 | 990 | 32.1 | 73.7 | 107 | 107 |
| 23-Jan | MCT @TDU Stage 3 Start Norwood & coffee at the beach | 01:05:04 | 26.1 | 42.1 | 88 | 38.9 | 40.3 | 94 | 27 |
| 24-Jan | MCT @TDU Challenge Ride Stage 4 of the Pro Race to Murray Bridge | 04:26:10 | 162.0 | 261.3 | 1586 | 58.9 | 78.9 | 139 | 297 |
| 25-Jan | MCT @TDU Stage 5 Start Glenelg and Beach ride | 01:47:25 | 46.7 | 75.4 | 100 | 42.1 | 40.1 | 98 | 47 |
| 26-Jan | MCT @TDU Stage 6 McClaren Vale & Willunga Hill | 05:31:42 | 129.5 | 208.9 | 2018 | 37.7 | 68.8 | 117 | 270 |
| 27-Jan | MCT @TDU Belair and sightseeing | 01:03:23 | 26.2 | 42.2 | 306 | 40.0 | 65.4 | 115 | 64 |
| 28-Jan | MCT @TDU Crafers, Stirling, Hahndorf, Lofty,Grenhill | 03:54:02 | 84.4 | 136.2 | 1575 | 34.8 | 63.9 | 112 | 192 |
| 29-Jan | MCT @TDU RiverTrail, GorgeRd, TorrensHillRd, Ponds, Cudlee, Corkscrew, Mont | 03:20:32 | 77.1 | 124.3 | 1025 | 37.3 | 67.4 | 106 | 146 |
| 30-Jan | MCT @TDU Moanar, Hallet Cove, Glenelg | 03:31:09 | 83.2 | 134.2 | 748 | 38.1 | 56.8 | 113 | 130 |