This week saw some new visitors all the way from Canada, returning friends from the Mickey Cranks group and more new riders from parts of the uk.  For a September week in Mallorca it was a bit cool but perfect riding temperatures and positively hot for anyone from the UK.  We had some new routes planned for this week and with the weather on our side it would be a fun week with plenty of achievements along the way!
Day 1 was our usual getting into the groove with a circular trip to Petra via the quiet lanes near Manacor and the Bosch Valley.  Just before climbing out of the valley, we passed the edge of what had been one of many fires the previous Friday, it still smelt a bit burnt!  On reaching Petra – Richard had suffered from 5 punctures, so glad we had a vehicle backup with wheels! After refuelling with cakes and coffee, we had a smooth ride back via Maria de la Salud and a brisk ride around the bay to end.  All ready for the next day, legs loosened up.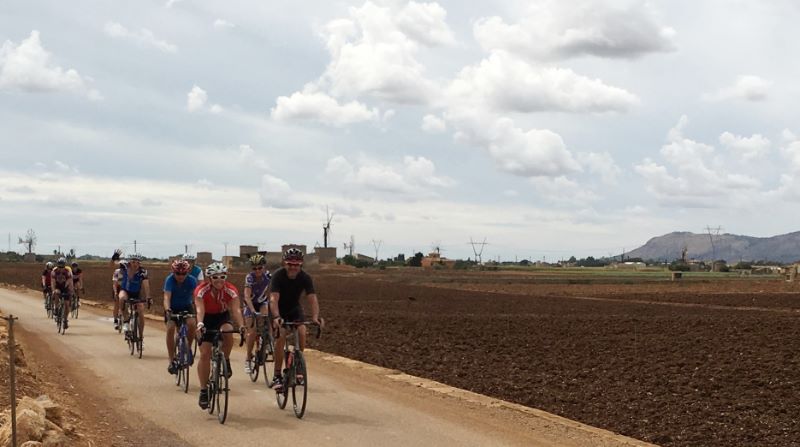 Day 2 was a trip through the Orient. Out via the flat Pipe Road, drinks at Santa Maria and then start climbing out of Bunyola. The cafe had almost run out of cake but we managed! Top up the bottles and up we went. We had an exceptionally quiet ride up Coll d'Honor and after photos, through the valley and up out via Orient village. Wonderful decent towards Alaro and stopped at Lloseta for our last drinks and any food.  As some had fresh legs (really?) and there was a possibility of rain the next day curtailing the planned harder route – we split into 3 groups. Two went back via Coll de sa Batalla and the others via Campanet and shampoo valley.  At the end of the day, lots of tired legs, hungry cyclists and a very happy Ruth who was celebrating her Birthday that day – now that will be a memory! Well done Ruth, amazing day for you!
Day 3 This was to be our Religious day (Churches / Santuiri's / Monasteries). We set off as planned but had to cut it short due to the rain coming in.  Still, before the rain, we had lots of fun, great views and the 'new' riders got to meet Mr Marvellous at Bar Triquet. Fantastic cake and drinks.
Day 4 – Rest Day.  So which part of the word rest did they not understand?  I caught them riding out for an easy ride…
Me – I went to the beach!
Day 5 – Climbing Mountains.  Today was a ride up to Puig Major from the Lluc side, down to Soller, over to Santa Maria and an easy spin back.  Would the rest day have left riders with stiff legs or supple ones?  Only one way to find out!
We set off in glorious sunshine and a very steady pace up the Coll de Femenia and had a regrouping coffee stop at the famous Petrol Station. Then onwards past the Gorg Bleu, Cuber and topped out at the Monnaber Tunnel.
Top up the water bottles and enjoy the downhill towards Soller and you have to take in Fornalutx. Climb up out of Soller, Coll de Soller and grab some food on the top.