Introduction
Living in Mallorca is great, the summer season is wonderful, the spring and autumn cycling season, is fun, busy and we love it. Winter can be too quiet, and January seems the longest months, in February it is still cold and dark. The best way to get the motivation to train hard is to escape somewhere sunny, warm, and cycling friendly. Gran Canaria is only 4 hours away and reasonably priced for accommodation and rental bikes. We heard about the new roads and how popular it had become for cycling holidays. The weather forecast for Mallorca was cold and snow, so we did a last minute booking to Gran Canaria. It was quite easy to find a Hotel or Apartment, harder to rent bikes! I would not recommend doing it last minute. We arrived in the evening to Maspalomas, to a beautiful warm evening, a nice atmosphere on the sea promenade, we found restaurant with live music, and the holiday started well.
Day 1
The first day we needed to pick up our bikes and get used to them, the bikes looked in good condition, just heavy compared to ours at home, so a little extra training for the week.
The first spin of 38 miles was meant to be flat and easy, but going by the coast was challenging. We did find the Soria valley 16 km just slightly up, so peaceful and pretty, busy with cyclists, even pro rides, with the Soria cycling coffee stop. Mostly downhill on the way home, I felt happy and excited after the first cycling experience. Sunbathing in February feels extra good and is the best recovery.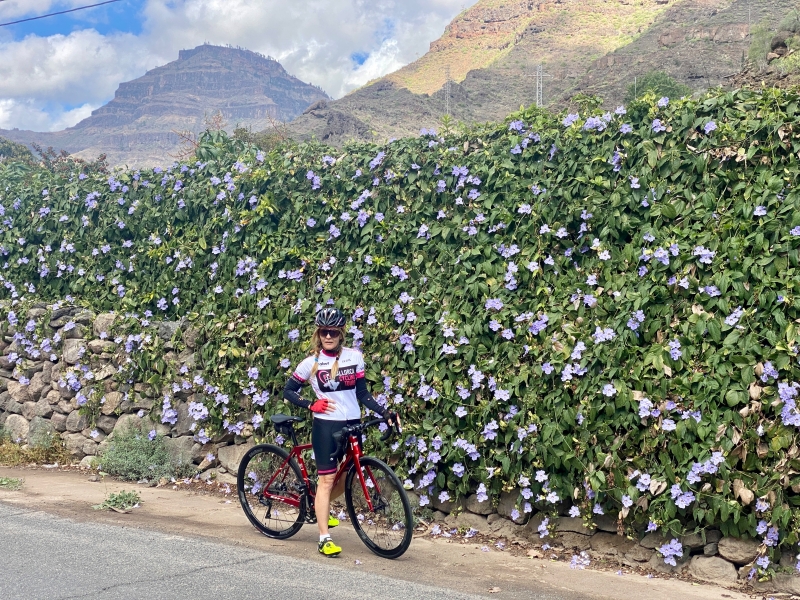 Day 2
The first climbing day to Santa Lucia. From Maspalomas, we went along the rolling coast road, until we turned towards the mountains. Mark was passing me on the first part of the climb and then we separated, I went directly up to Santa Lucia and Mark did an extra loop, don't get me wrong there are not easy roads in the Mountains. The climbs are steep but the stunning views take some of the pain away. Santa Lucia is a picturesque small town with white houses, popular with the tourists. The only problem when you get there is the fact that you are not done with climbing, the road keeps going up to Sant Bartolome, from there a couple of km up to the restaurant at the top. It is cooler in the mountains, so warm coffee is exactly what you need after all that climbing 4,386ft. Cycling back will give you an adrenaline rush, the descending is fun because the tarmac is good, but the roads can be busy. This was my first time on a bike with disc brakes and I found it very useful on the long decent down. Before you are done, there is a bonus 4 km climb to the view point before you are finally down by the sea again.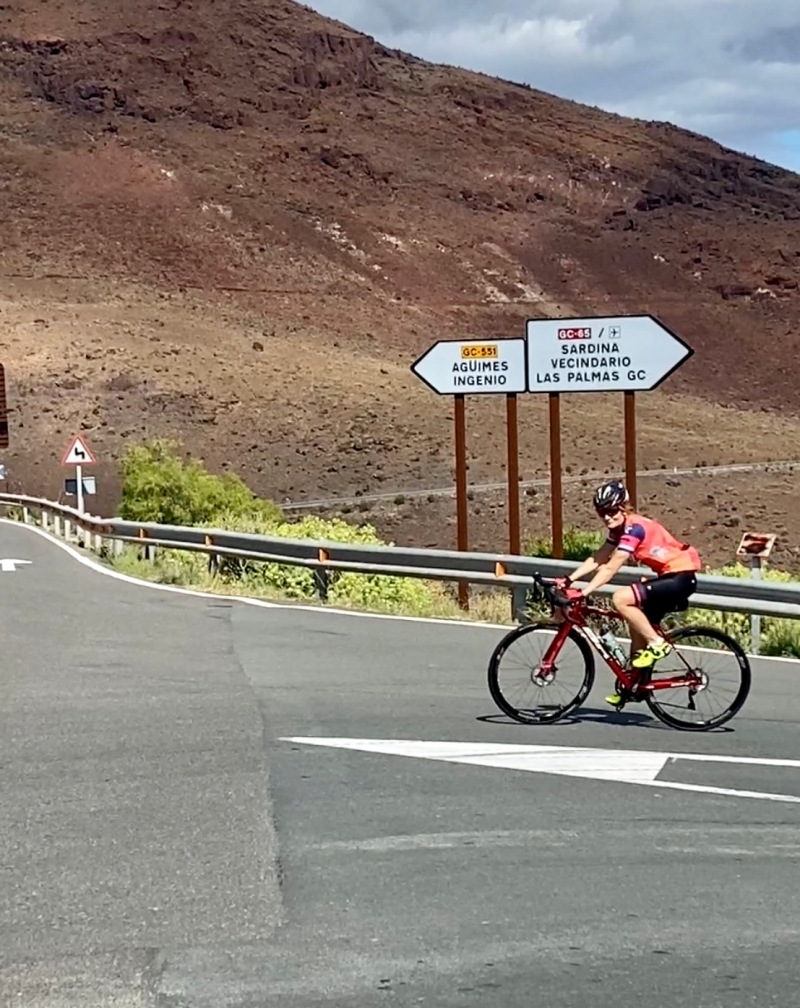 Day 3
Maspalomas on the seafront has around 20 restaurants to choose from, great fish, Spanish and international cuisine. Walking around the dunes is a special experience, so much sand you can walk by the sea for hours, that was my program on day 3, gym, beach walk and relax. If you are not a climbing goat and you want to enjoy you holiday, one day off is a good idea. If you like shopping or getting a spa treatment, there are options for everyone.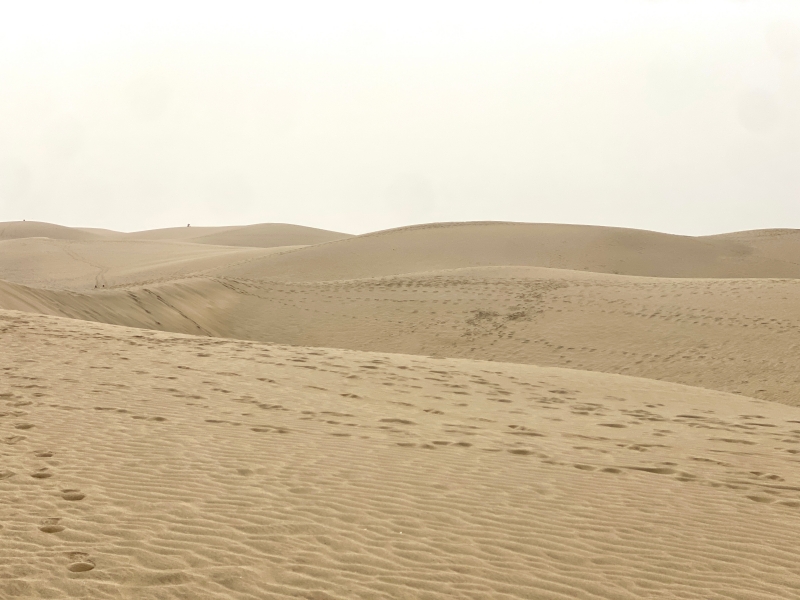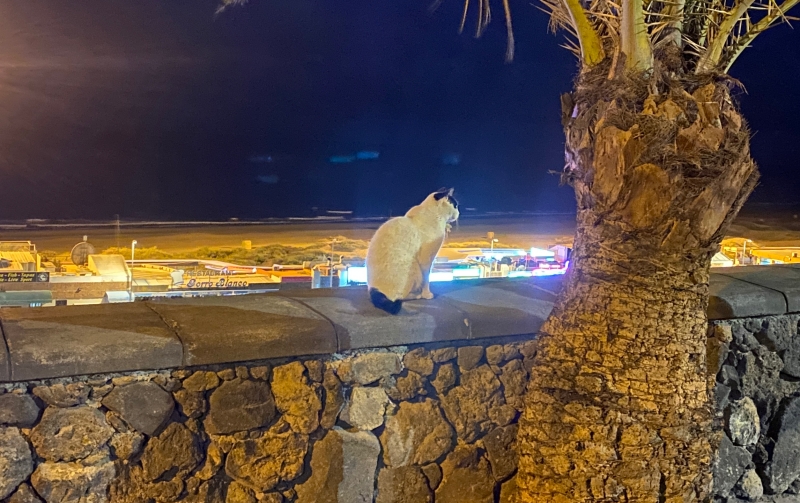 Day 4
After a relaxing rest day, it was time to climb again. We started early going from Maspalomas, by the coast and turning in to the Soria valley with it's steady gentle gradient. A quick coffee stop and straight to climbing up to Soria. A twisty road with challenging inclines of around 8%. Once you are at the top you can stop in the small village or carry on climbing to Tauro Pas. Here is when you need the bottom gear and strong legs, the road will just go steep and gravelly for around 4 km, the hardest part is not knowing how long, you must suffer for. Luckily, I have survived and from there the climbing got easier, I could relax and start enjoying the views. In the February you can see blossom everywhere, in contrast with dry red rocky mountains, it does look stunning. The mountains have been busy at the weekend, so when we arrived to the Ayacata village at the top, it was hard to find a free table. We managed to find a quiet old-fashioned place and rest. There was only a little climbing left on the way home. This was one of the hardest days on the bike I have experienced, but you feed proud and satisfied after is done.
When you are on a cycling holiday, you want to keep cycling and do as much as you can, but recovery, is important too. In Mallorca you can go for an easy spin, but Gran Canaria flat is 3 to 8% up. So, for recovery I went to the gym, did some stretching, enjoyed the sun and explored the island.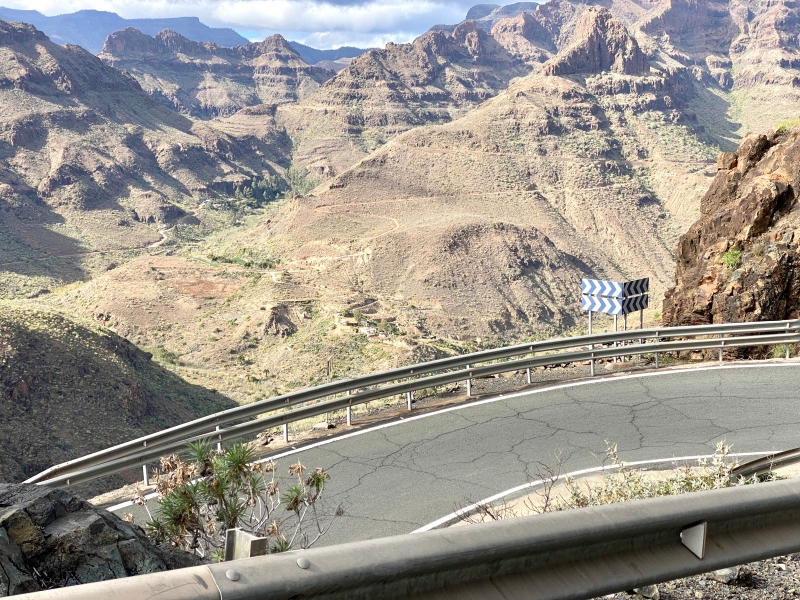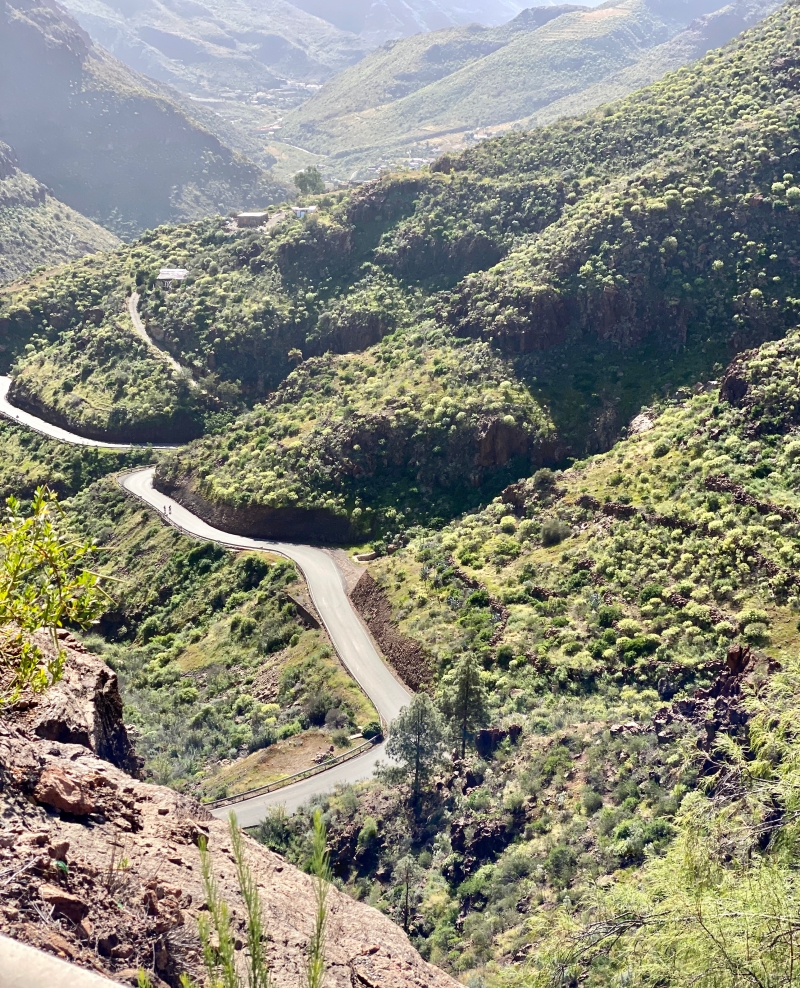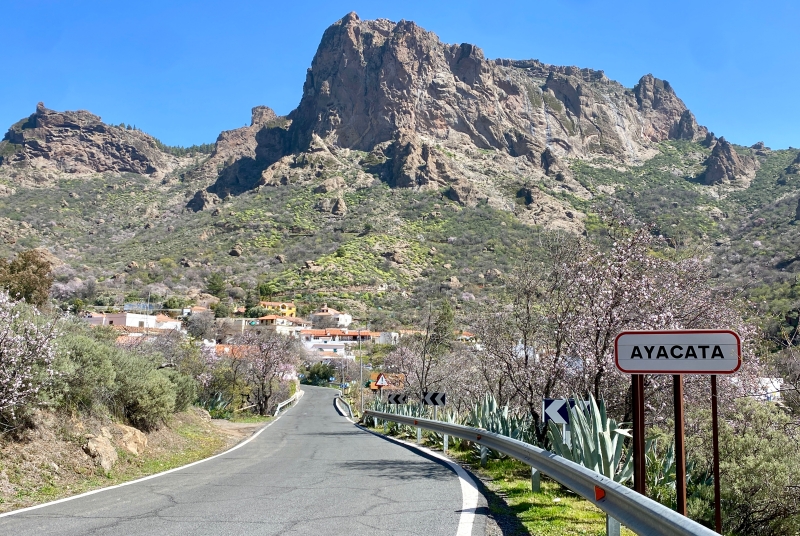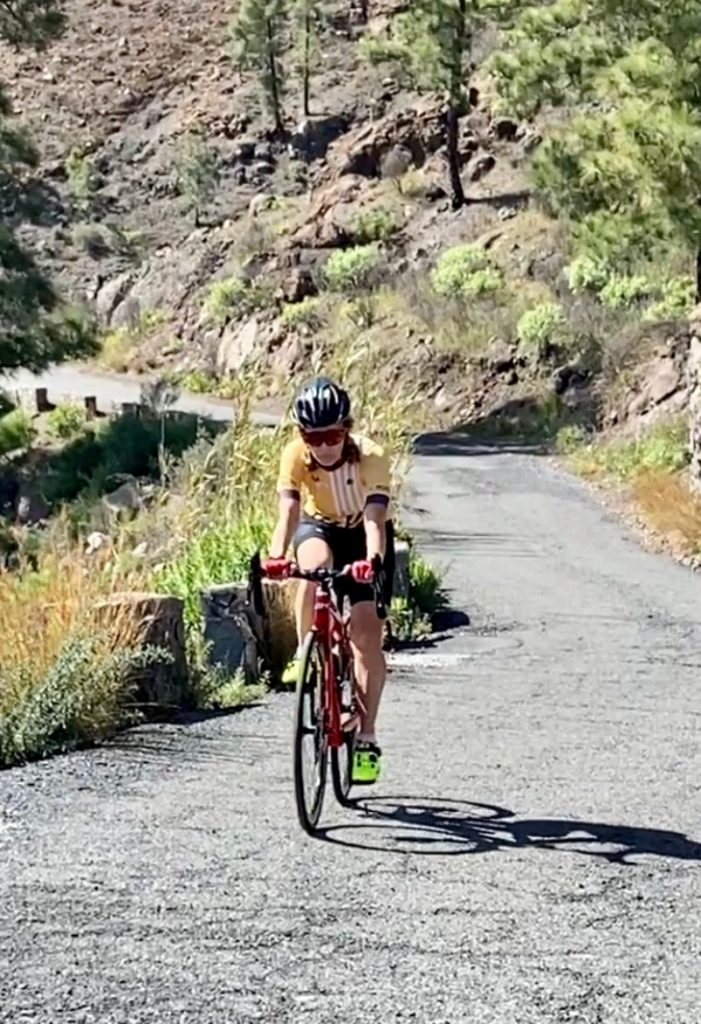 Day 5
My fourth day on the bike was, full of surprises, we started by the coast and headed towards Agumes, a charming little town, from there we carried towards Montana De Las Tierras, the valley didn't look as steep, and the views of the coves and rocks look stunning but the road was going up and up! On the way back to Agumes, you could see how much climbing you have done. If you are a non-cycling tourist, you could drive to see the coves, a very interesting part of the island.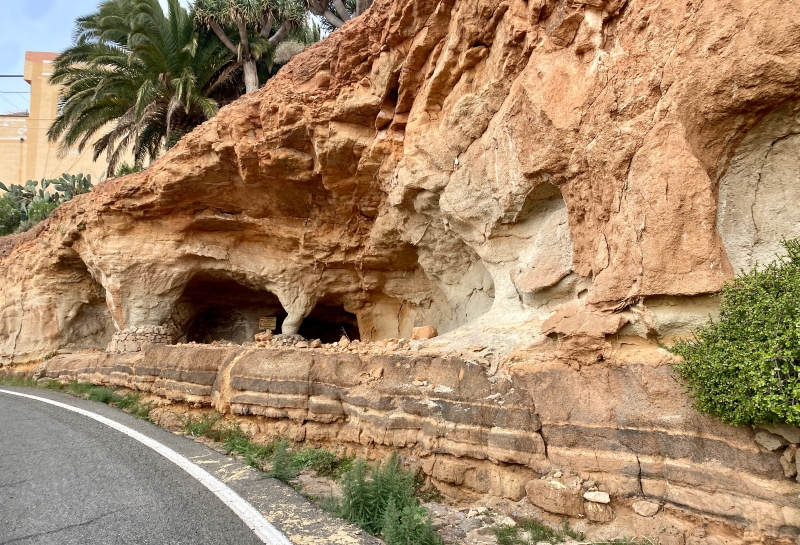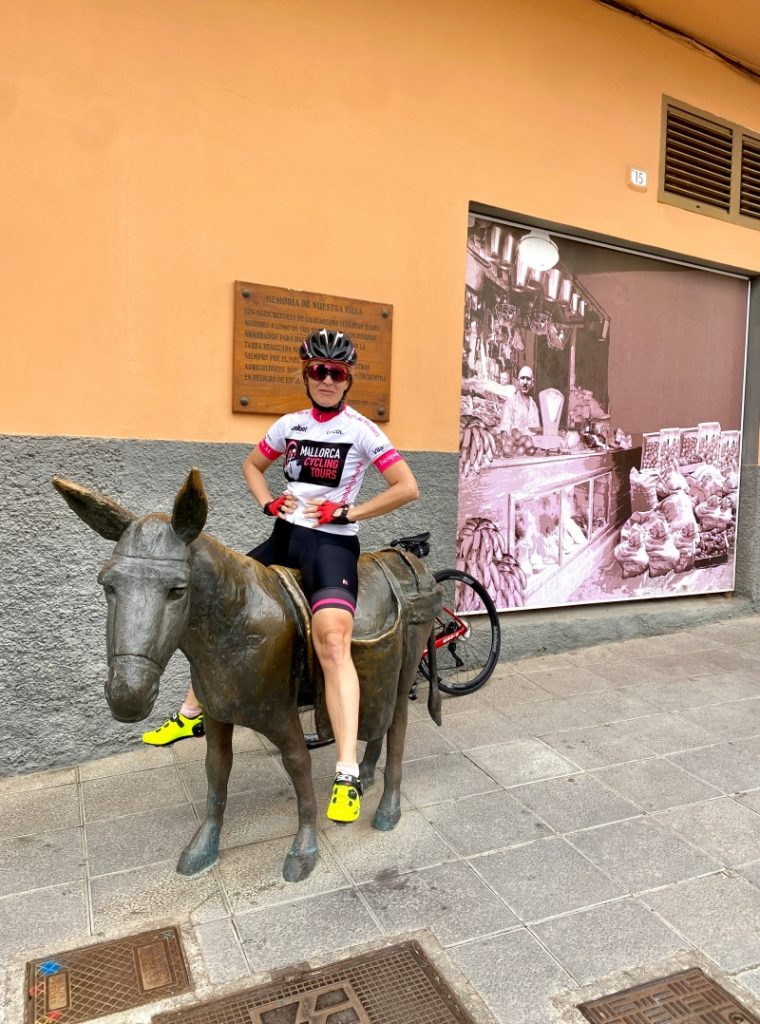 Day 6
My fifth day on the bike and the last cycling day, from Maspalomas, straight up to Fataga and San Bartolome.
This road, we used to get back home twice before and now it was time to go up. It was steep, but manageable and stunning, with a short decent before passing a safari, where you can go for a camel ride, or you can cycle and enjoy the last bit to Fataga, stop for coffee and carry on to San Bartolome for more coffee, in my case. Mark went to the top of the island, Pico de las Nieves.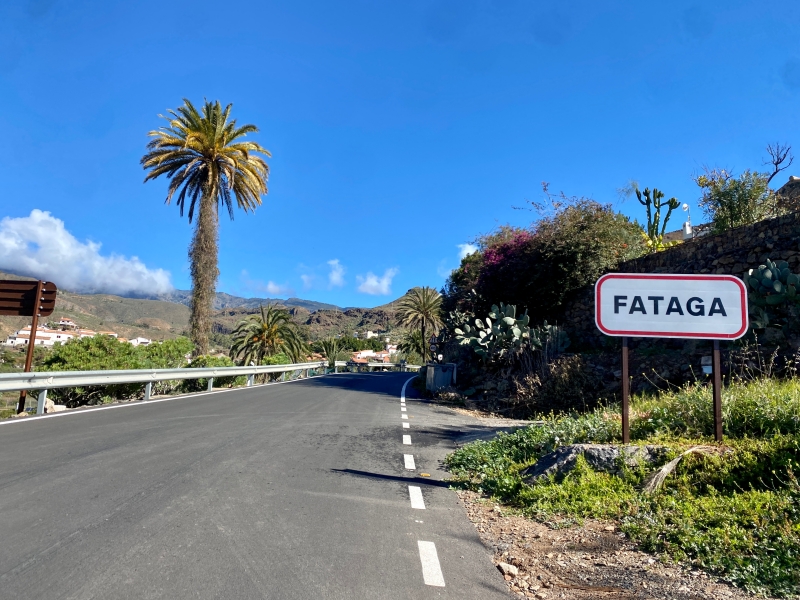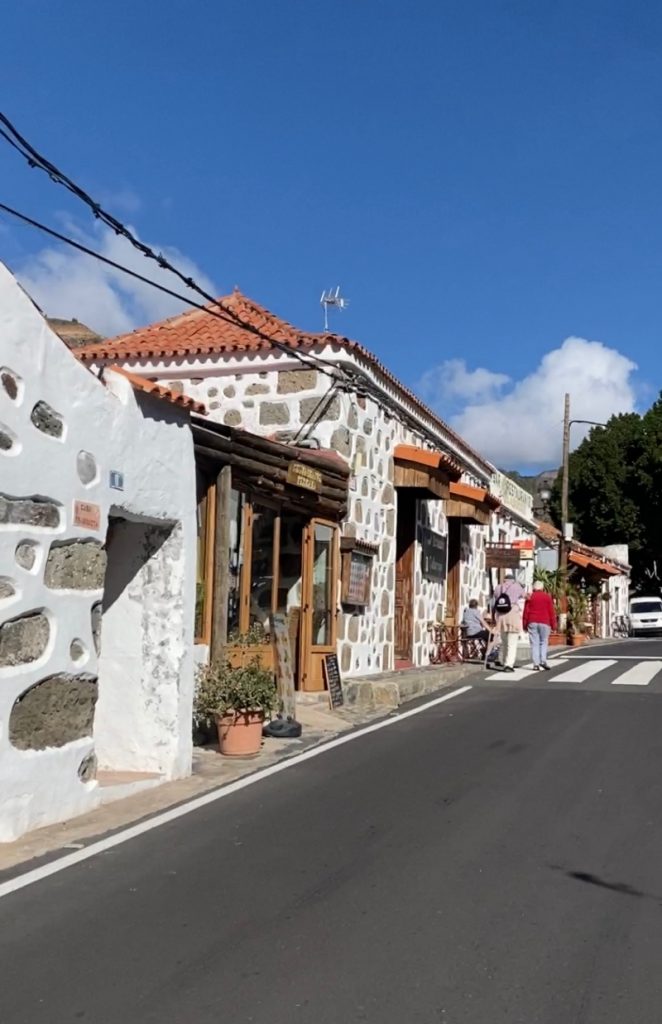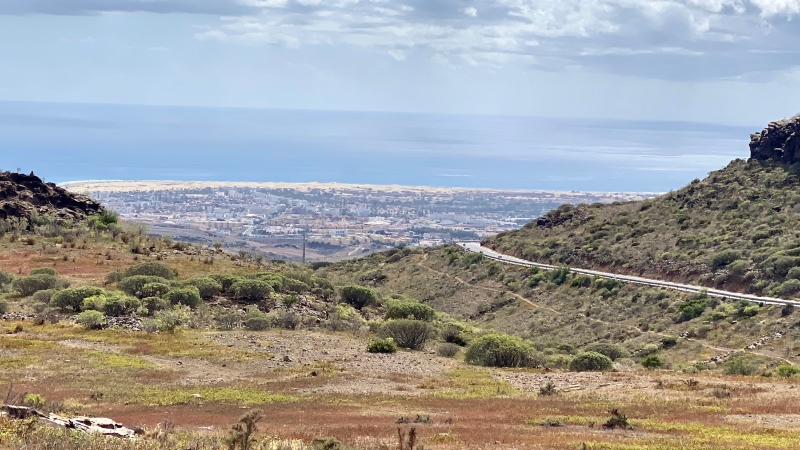 Going back and knowing that you are done, was bittersweet. I am not a natural climber, so some steep parts shocked me and I had to get used to the inclines, that was the only negative part. I have many happy memories from the cycling holiday, trying new roads, exploring the island, great food, never ending beach and massive dunes, sunshine and sangria.
This was not our last cycling holiday in the Grand Canaria, we will be back next February, hopefully our cycling friends will join us and we can suffer and celebrate together.